Mark your calendars: Mother's Day is coming close, as the occasion to show your mom — biological or otherwise — how much you appreciate her and all that she does for you, your siblings and everyone else in her life. And whether you see her every day, or she currently resides far away, you can show your gratitude with a gift that tells her how much she means to you. But really, how can you properly say "thank you" to the woman who gave you the gift of life? Your heartful selection of a beautiful bunch of flowers and the loving quotes, classic but always impressive, never goes wrong.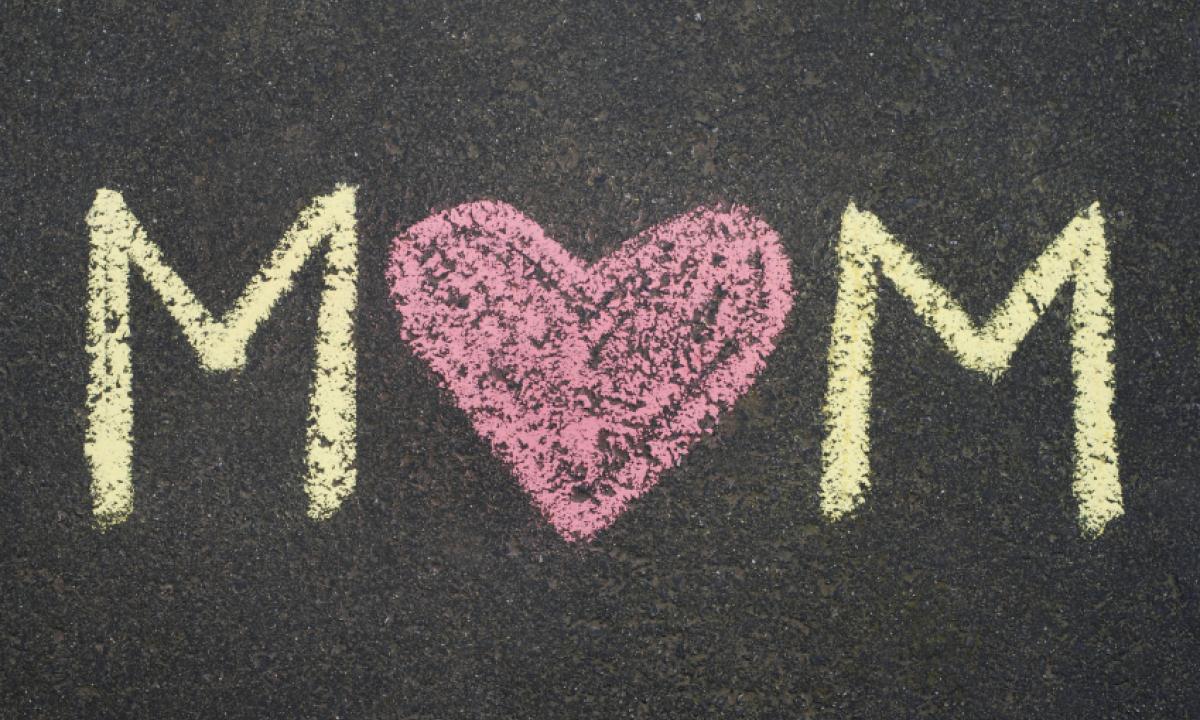 To help you find the best Mother's Day flowers, we've featured 14 bunches of flowers with quotes for your option. (You may not be able to deliver them in person, we found the best-curated bouquets you can order online.) Close together or far apart, let your mom know she is forever in your heart.
1. "Life began with waking up and loving my mother's face." - George Eliot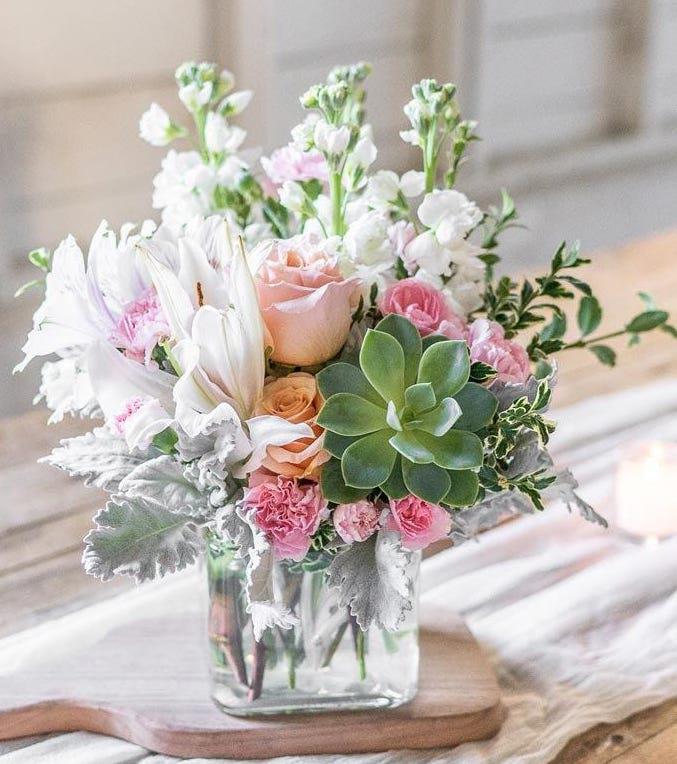 Like lipstick kisses on nature's collar, these fiery orange roses, radiant sunflowers and sun-kissed Chrysanthemums will imprint their charm on the heart of even the frostiest recipient.
2. "There is nothing as powerful as a mother's love, and nothing as healing as a child's soul." - Unknown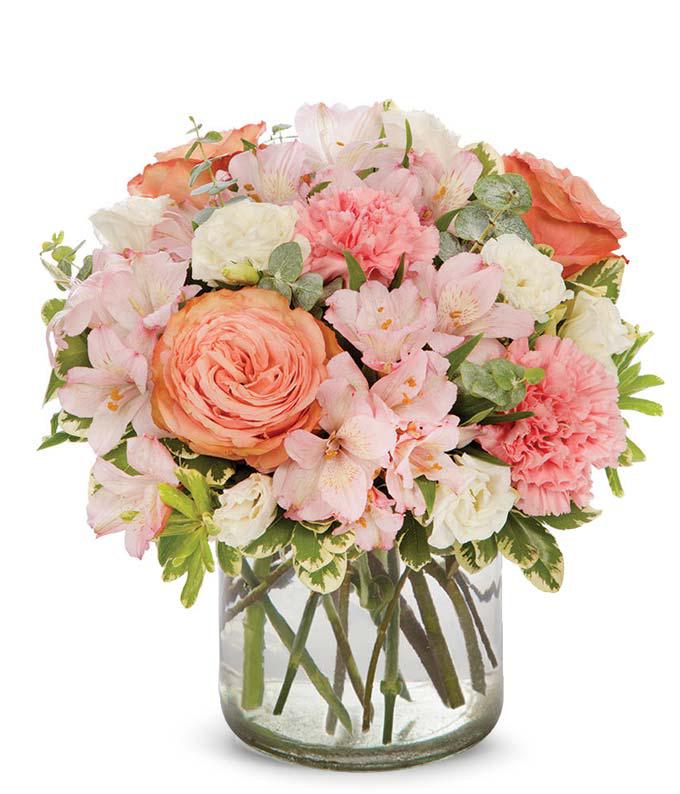 A soft and tender bouquet, perfect for expressing your gentle loving thoughts through delicate peach and light pink blossoms. Seasonal flowers are expertly arranged by an experienced local florist and hand delivered to your sweetie. Show her how much you love her.
3. "The heart of a mother is a deep abyss at the bottom of which you will always find forgiveness." - Honore De Balzac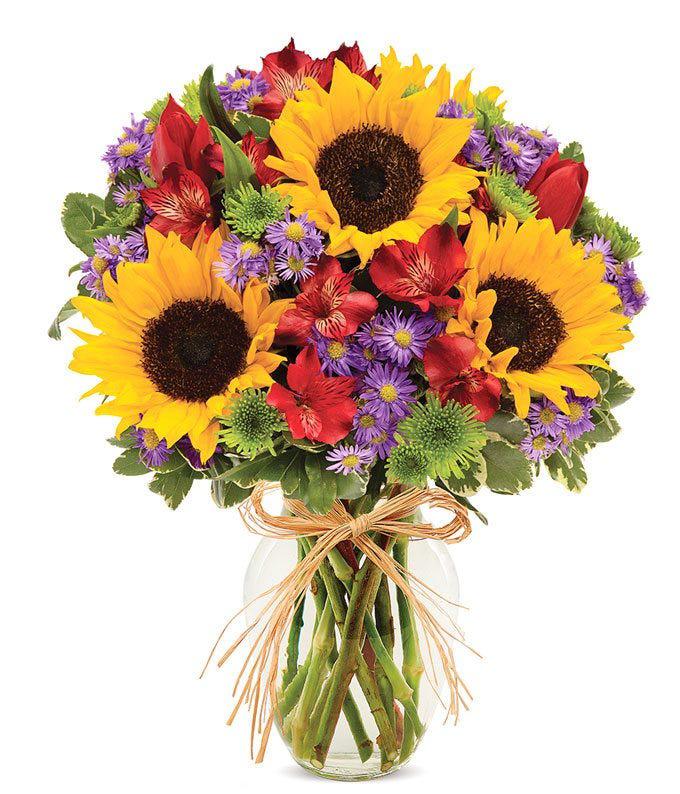 Send the Floral Garden to give someone the gift of a seasonally appropriate, overflowing garden, right in their home. This bouquet is filled with bright yellow sunflowers, green poms, pink tulips and more! You can send these as a thank you, a congratulation, or simply a "I'm thinking of you!"
4. "Of all the gifts that life has to offer, a loving mother is the greatest of them all." - Unknown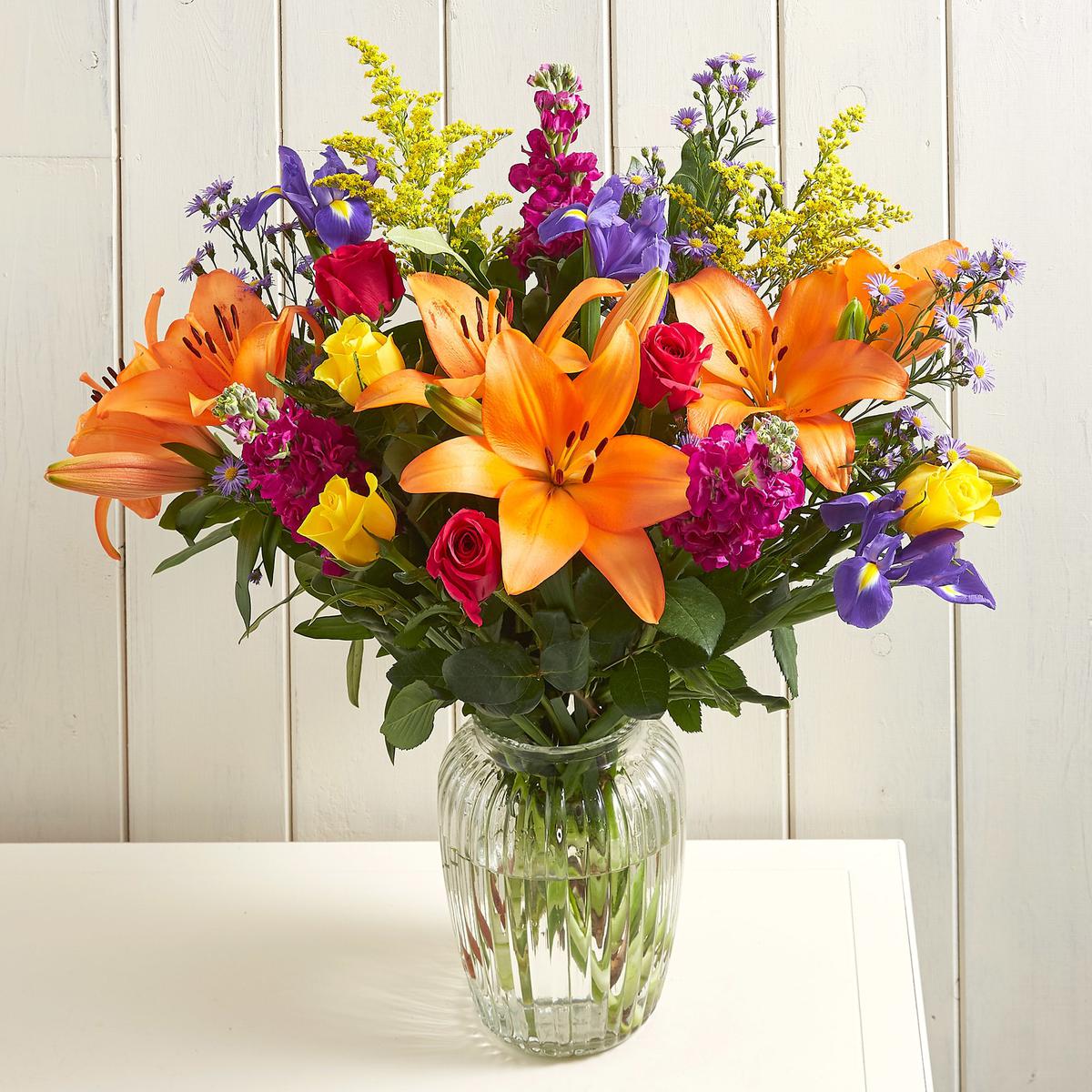 Spot a rainbow on a cloudy day. Give a hug when they expect a handshake. Send flowers when they only expect a thank you note. This joyful cocktail of Lilies, Stocks, Asters, Solidago and Roses will arrive effortlessly in their home through the letterbox.
5. "All that I am, or hope to be, I owe to my angel mother." - Abraham Lincoln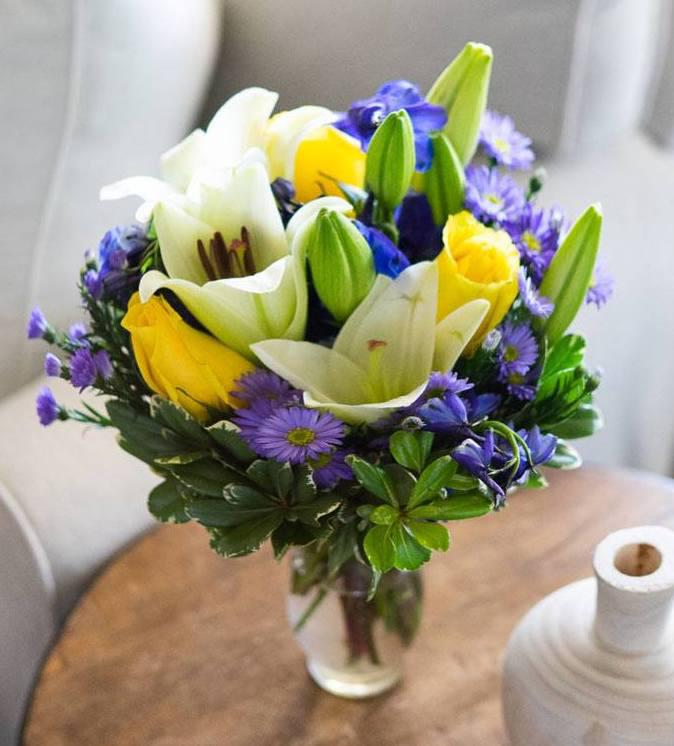 Take a stroll through a mystic wonderland of brandy roses hiding away from fairy freesias and making their way through the forest of purple lisianthus.
6. "A mother is she who can take the place of all others but whose place no one else can take." - Cardinal Meymillod
Blushing shades of dusky pink Roses, Alstroemeria and puffy white Stocks make a serene display of effortless elegance. Just like their recipient, these blooms charm everyone around them. These blooms arrive effortlessly in their home through the letterbox.
7. "Life doesn't come with a manual, it comes with a mother." - Unknown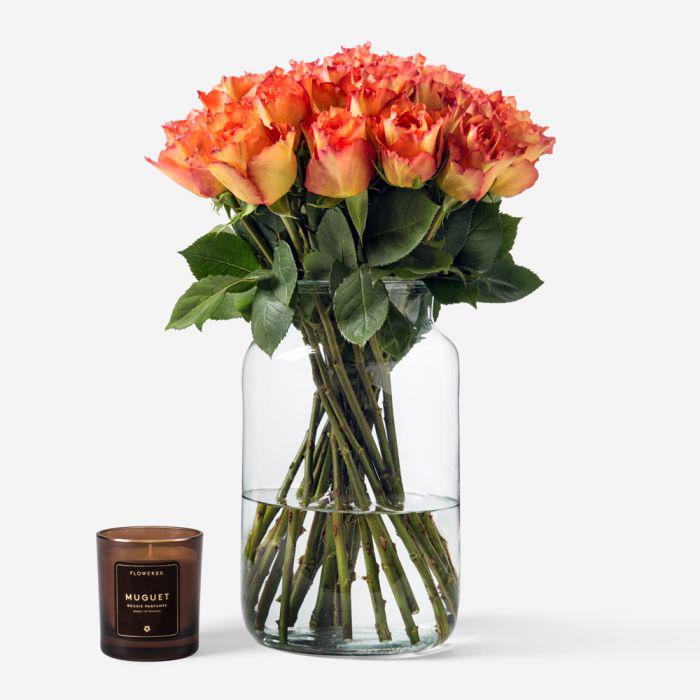 The Free Spirit rose lives up to its name with playful, frilly leaves, a cheerful two-tone color palette of sunset orange and pink and a gorgeous scent.
8. "To describe my mother would be to write about a hurricane in its perfect power." - Maya Angelou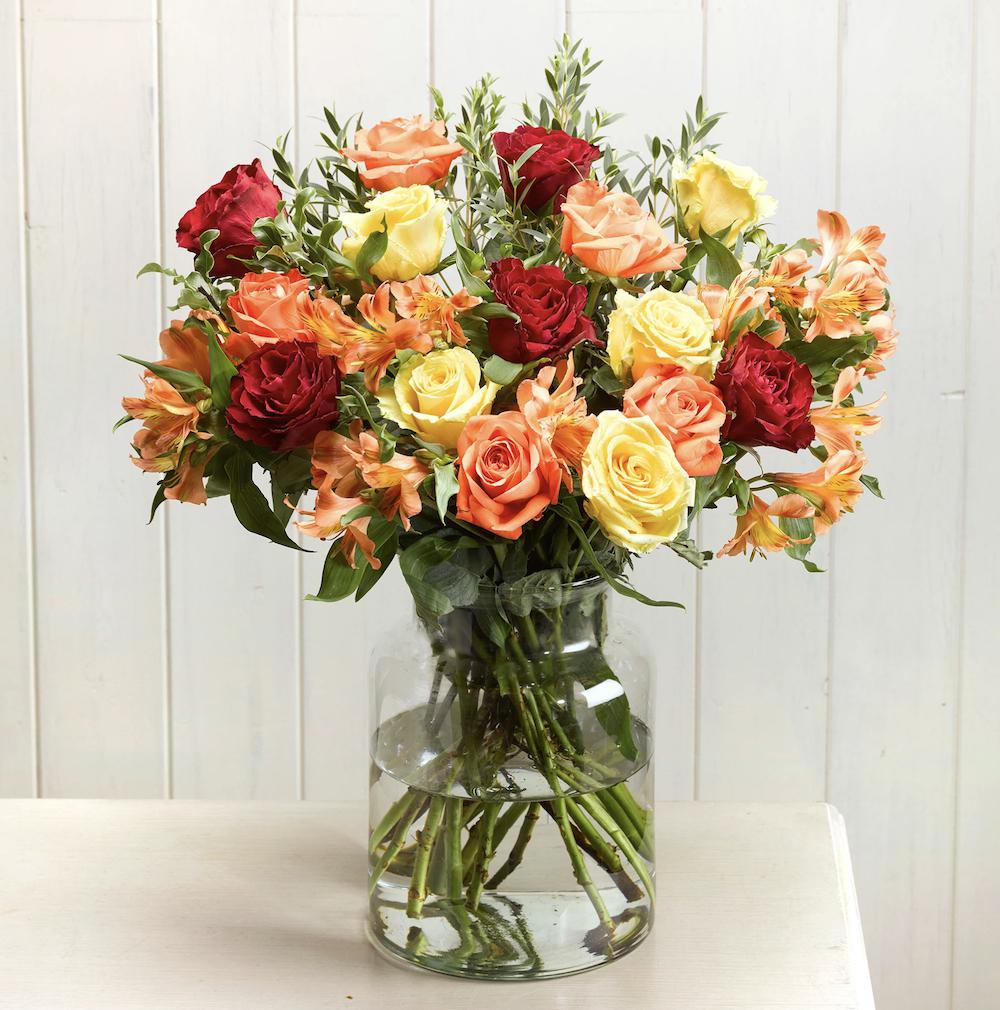 This burst of floral joy captures the rustle of the autumn leaves being swept by the wind and the smell of the autumn dancing in the breeze. A vibrant waltz of orange, red and yellow roses with yellow Alstroemeria will take their breath away.
9. "Motherhood: All love begins and ends there." - Robert Browning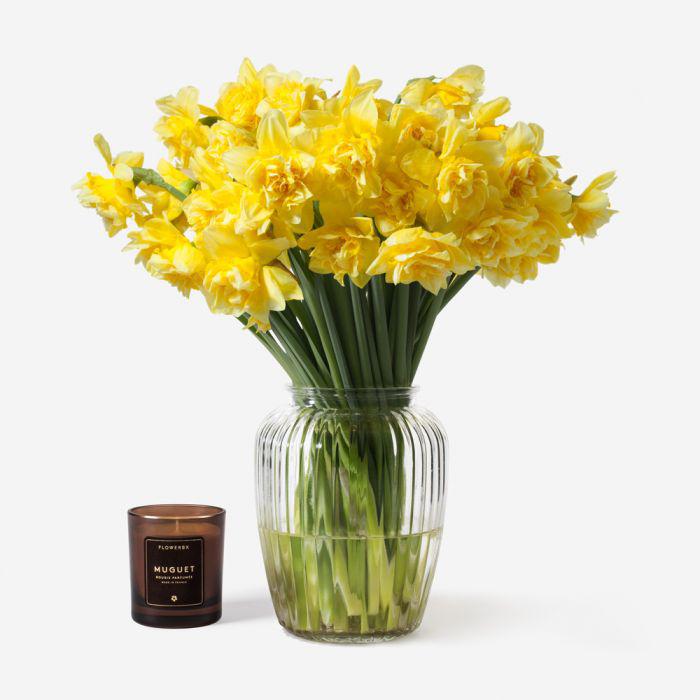 Daffodils are one of the most popular flowers in the world due to their beauty and fragrance, and the spring-flowering Sunshine Daffodil is sure to add a dose of beauty and happiness for your mom.
10 . "Youth fades; love droops; the leaves of friendship fall; A mother's secret hope outlives them all." - Oliver Wendell Holmes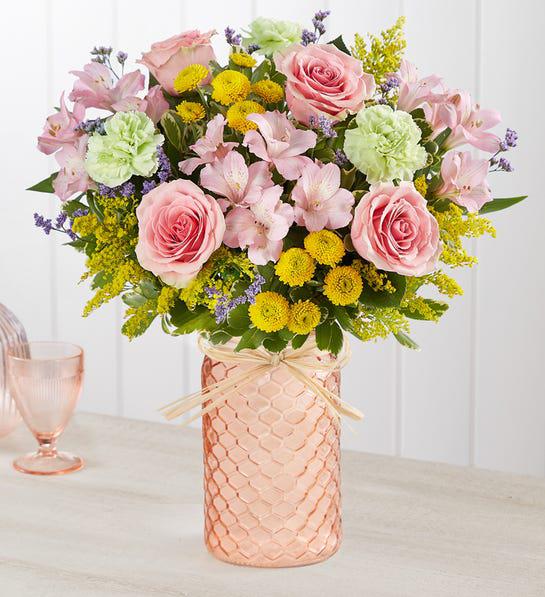 EXCLUSIVE Our Pastel Posy bouquet delivers all the sweetness of spring. A garden-fresh gathering of blooms in shades of pink, yellow, purple and green arrives in our new peach quartz mason jar, creating the perfect complement of color. From the soft floral tones to the charming honeycomb container design, it's a gift full of warmth and happiness.
11. "Most mothers are instinctive philosophers." - Harriet Beecher Stowe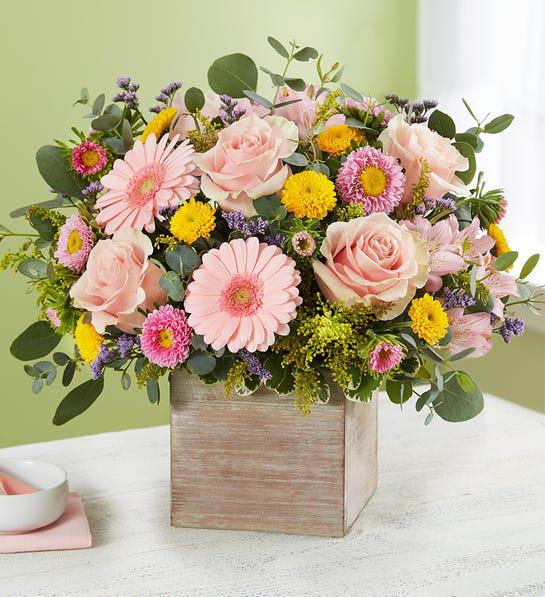 EXCLUSIVE Spring is a time to refresh and reach out. Our new spring bouquet celebrates that sentiment. Soft pink and yellow blooms are loosely gathered with lush greenery for style and texture. Designed in our rustic, grey-washed wooden cube, it's a gift that delivers on your feelings in the most beautiful way.
12. "A mother's love for her child is like nothing else in the world. It knows no law, no pity. It dares all things and crushes down remorselessly all that stands in its path." - Agatha Christie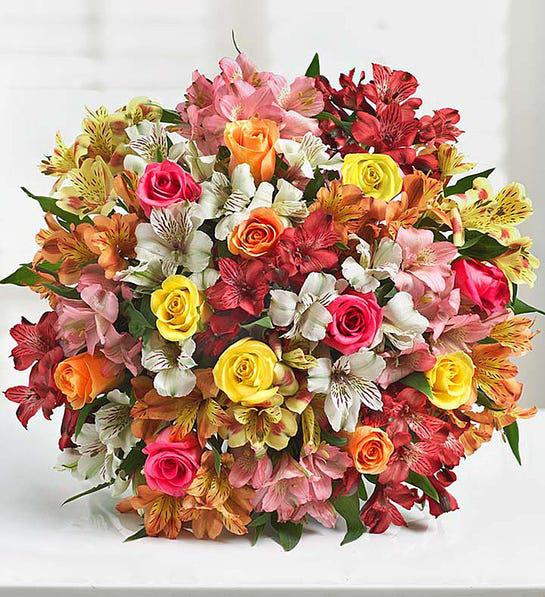 A bright and lively gift to make Mom's eyes light up. Our rainbow of roses and Peruvian lilies is a beautiful way to show her how much you care this Mother's Day, even if you can't be there.
13. "If I have done anything in life worth attention, I feel sure that I inherited the disposition from my mother." - Booker T. Washington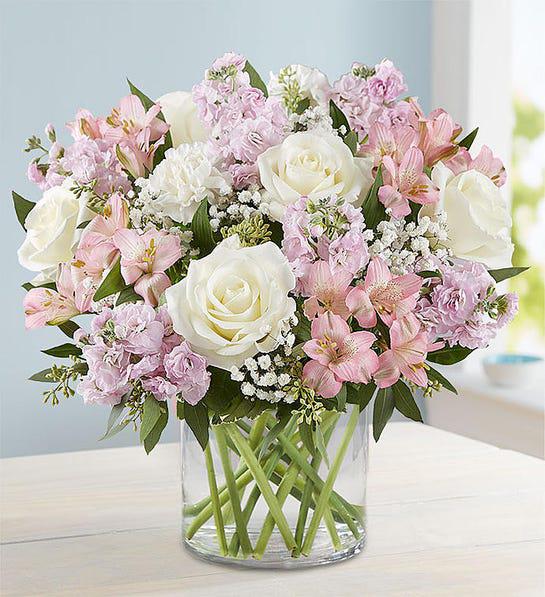 The elegant bouquet in shades of blush pink and creamy white brings all the charm of a rustic country garden to the people you care about. Cascading blooms are hand-gathered with lush greenery inside a clear cylinder vase, creating a beautiful gift that delights with every detail.
14. "Over the years, I learned so much from mom. She taught me about the importance of home and history and family and tradition. She also taught me that aging need not mean narrowing the scope of your activities and interests or a diminution of the great pleasures to be had in every day." - Martha Stewart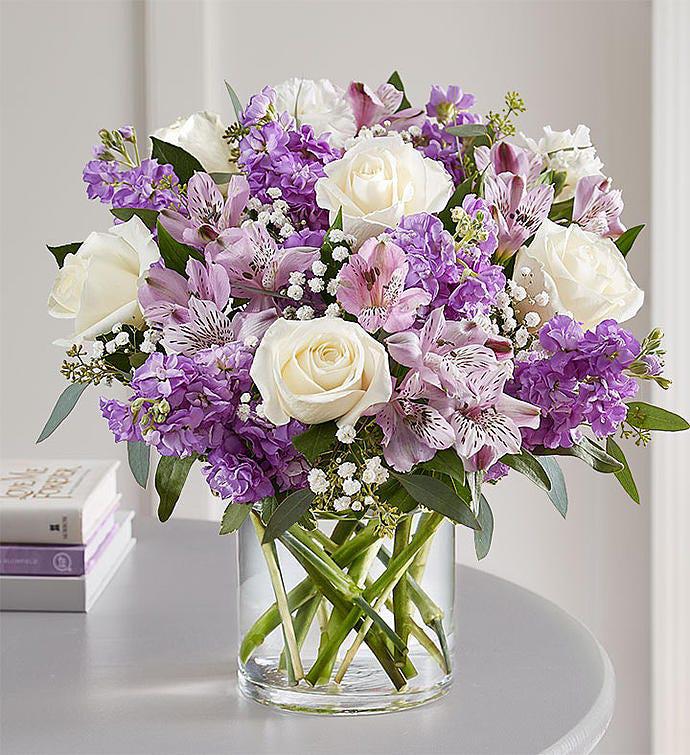 Lovely memories are made with thoughtful gifts for the ones we care about. Our charming bouquet is loosely gathered with a medley of lavender & white blooms. Hand-designed inside a clear cylinder vase with cascading greenery all around, it's a wonderful way to express the sentiments you have inside your heart.