Boots have always been the "it" accessory when it comes to fall. This season, over-the-knee boots and knee-high boots are taking the fashion world by storm. They are simply the perfect accessory.
And, it's not hard to see why they're so popular. Chic, trendy, and sexy, they can upgrade any look instantly! Moreover, they're also warm, making them the perfect pair of shoes to wear on a chilly day. From flat to heeled boots and leather to suede, there are many different boot styles to choose from. In this article, we'll tell you how to wear over-the-knee boots and spice up your outfits this season.
Dressing up Over-the-Knee Boots
You just can't go wrong with over-the-knee boots during the colder months! Not only are they warm and comfortable, but they're also versatile and super fashionable. You can pair these boots with every kind of outfit. Dress it up for a date night or dress it down for a comfortable daytime walk; it all depends on how you style your outfit!
Not sure what you should wear with your chic, new boots? Check out our guide for some gorgeous over-the-knee boots outfit inspirations!
Go casual with jeans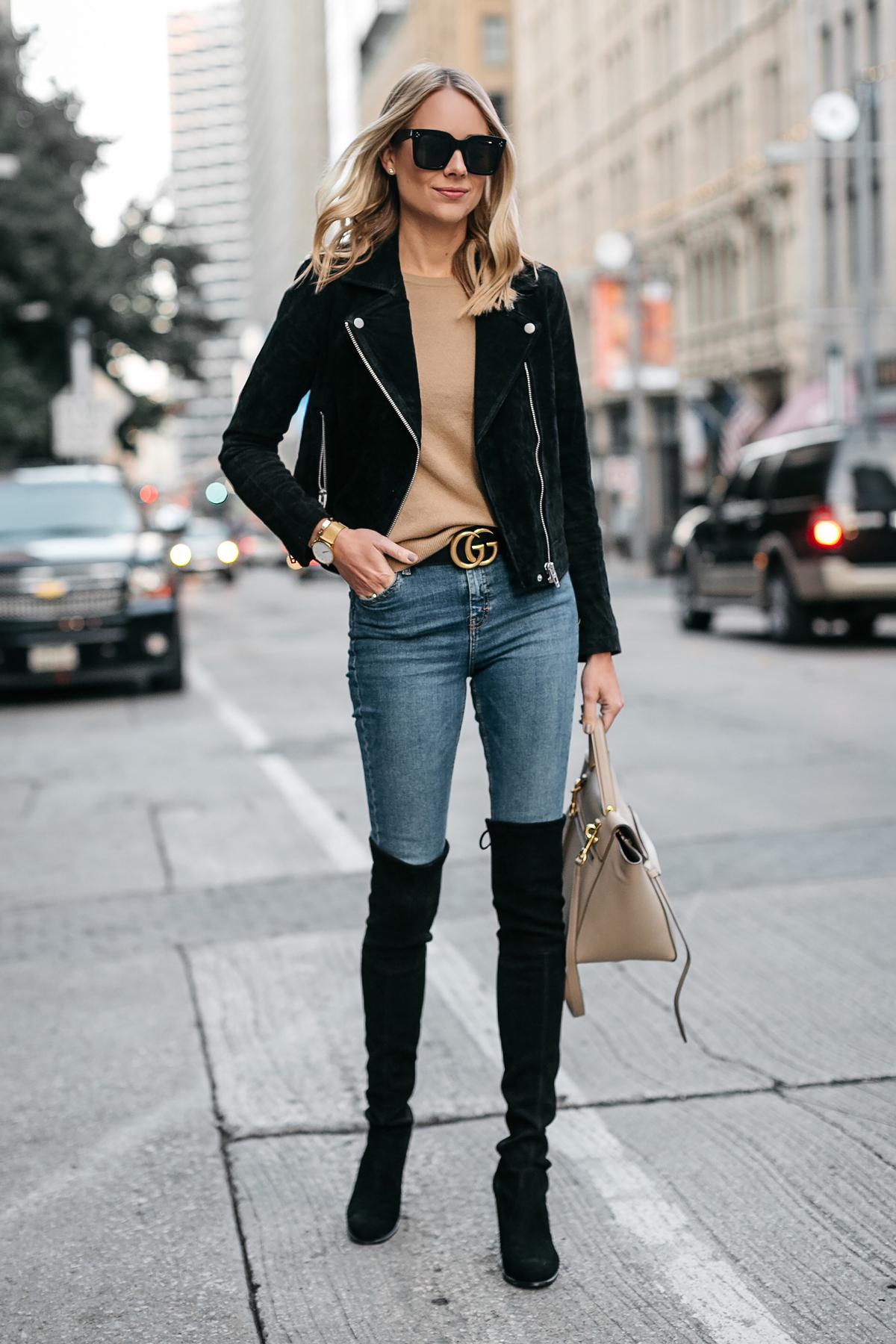 Jeans and over-the-knee boots are an absolute fall and winter staple. This combination will look good no matter what; even celebrities are often spotted with this amazing combo.
The key to a sexy yet comfortable outfit is to choose a good pair of skinny jeans. Absolutely avoid straight leg or baggy jeans because they will bunch up around your boots and make your legs look heavy. Consider accentuating your waist by tucking in your shirt or sweater.
Be sexy with short skirts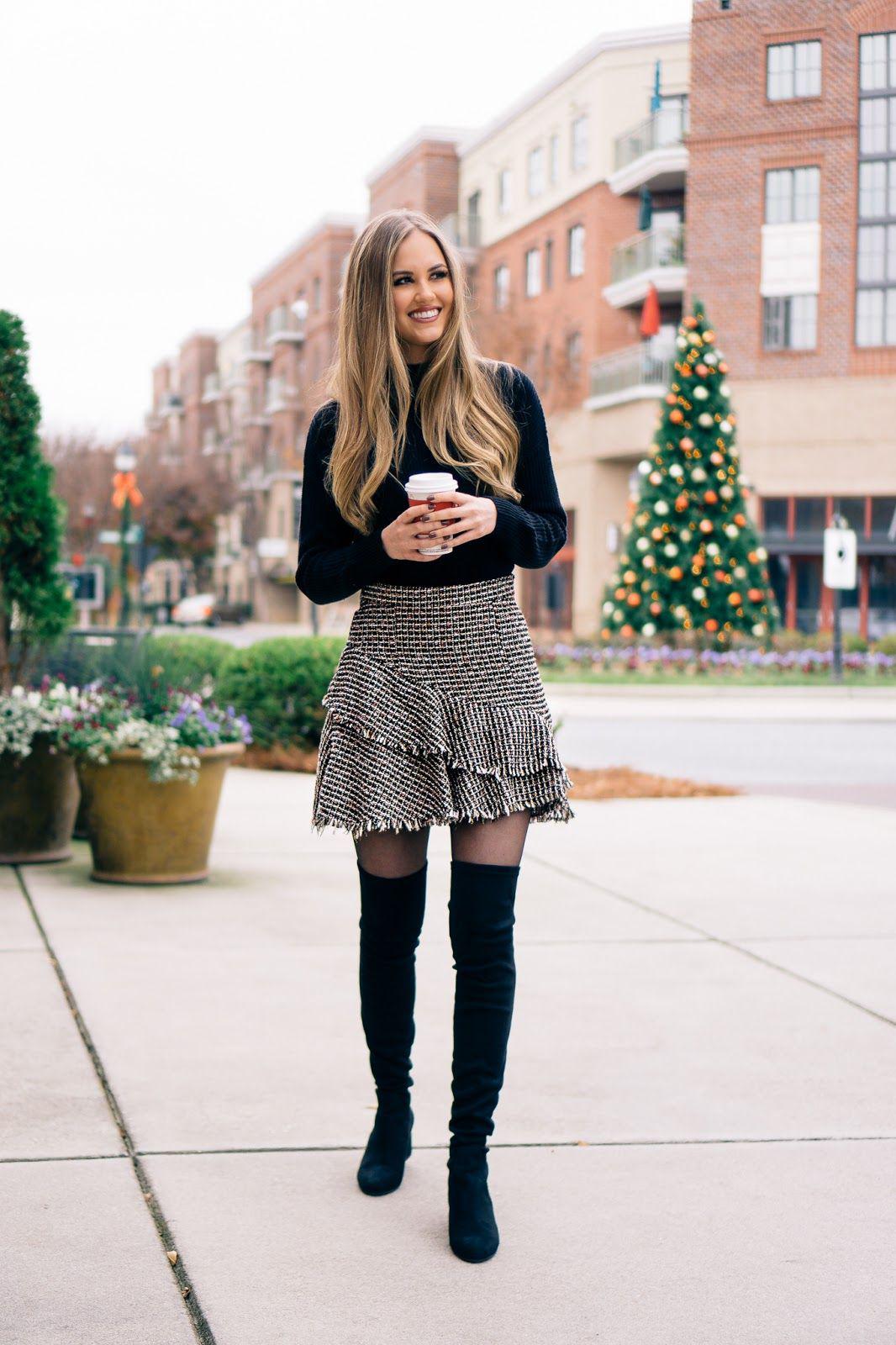 Want a flirty outfit for a date? Short skirts and over-the-knee boots are your answer! Pairing short skirts with these boots will give you a peek-a-boo effect and show a little bit of skin. This combination will look cute and sexy both at the same time.
For an adorable daytime look, pair the over-the-knee boots with a patterned mini skirt and a thick, yet fitting sweater. And for an edgy over-the-knee boots outfit, try pairing them with a patent leather jacket and a leather mini skirt.
Stay classy with midi skirts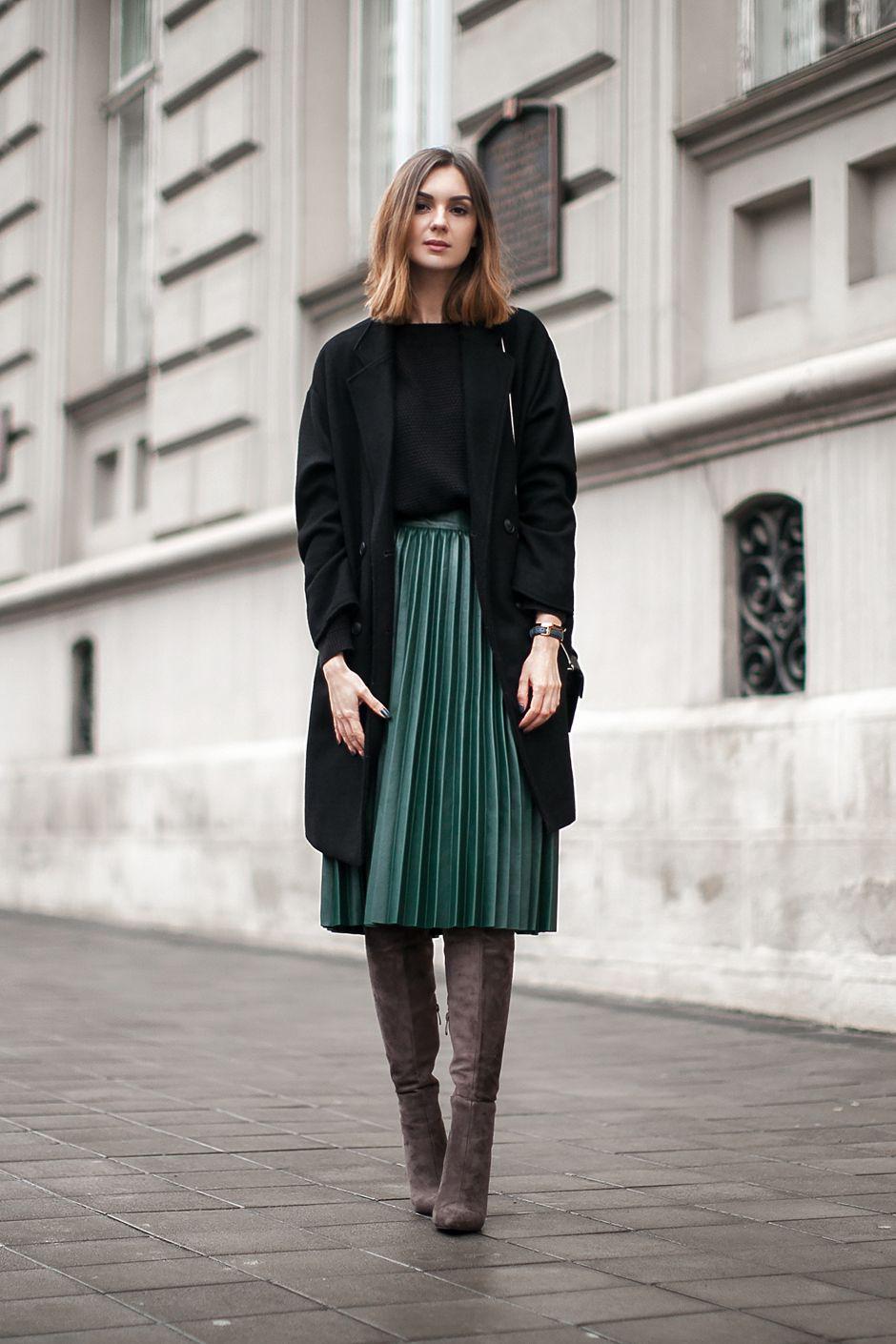 Say hello to another staple of the colder season: midi skirts! These skirts will look amazing with knee-high boots. Wearing those items together will give you a classy outfit that will look great for the office. Flowy, warm midi skirts are the key for amazing knee-high boots outfits.
If you love chic outfits, then you will absolutely adore this combo. It will work out wonders even on colder days. The secret for a warm yet chic look is to wear a pair of thick stockings underneath and a long wool coat to top everything off.
Pair them with shorts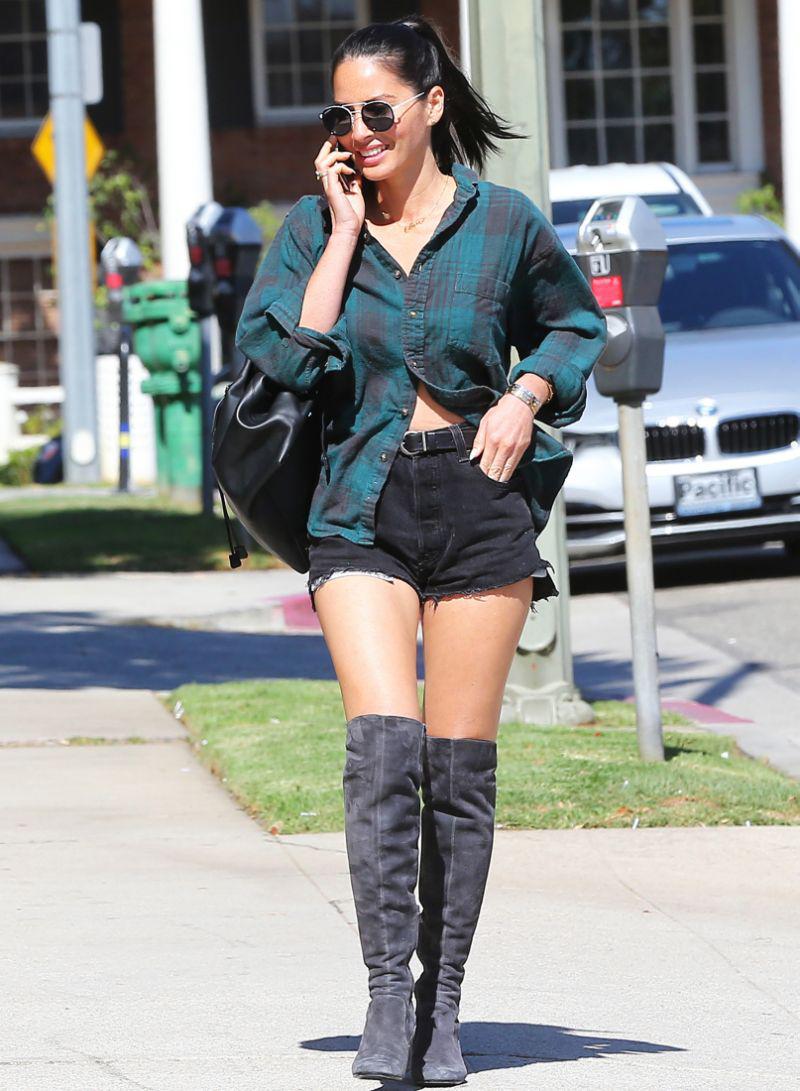 Think shorts are just for the summer? Think again! Pairing your boots with shorts will give you a unique, yet fashionable look. Steal everyone's attention with this unexpected combination!
Too cold to wear shorts? Don't worry, you can still pull this combo out even on colder days. The key is to wear a pair of thick, flesh-colored stockings underneath, and you're all set! Lastly, for a more cohesive over-the-knee boots outfit, match the texture of your shorts and boots. For example, try suede shorts with suede boots.
Fancy and cozy with dresses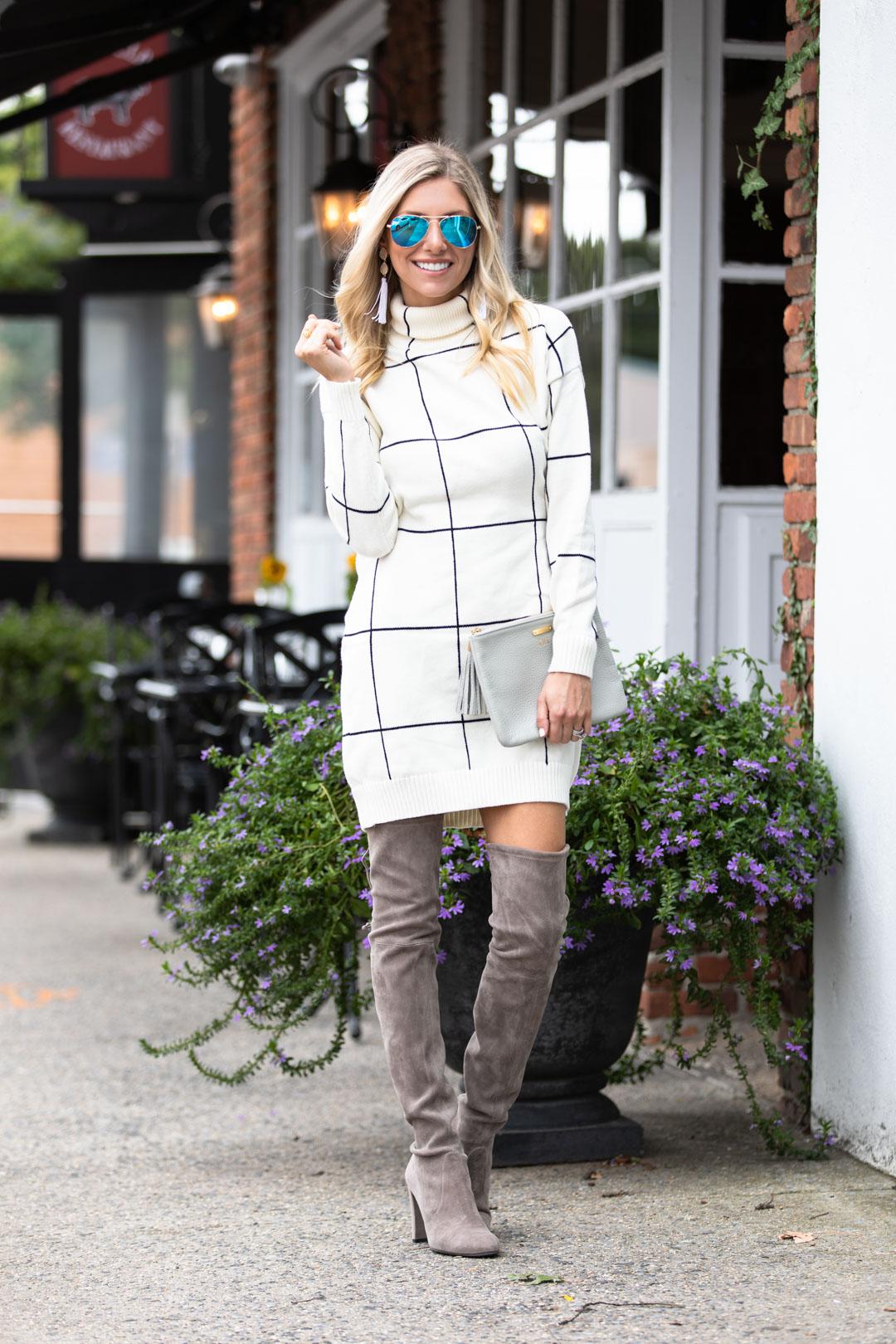 Dresses and over-the-knee boots are a match made in heaven! Whether it's a cozy knitted dress or a fancy party dress, this combination will look flattering on everyone.
Choose different dresses for new, fashionable outfits each day. Wear a maxi dress to maximize warmth and coziness. On the other hand, pick shorter dresses for a sexier look. Lastly, don't forget to coordinate the color of your outfit. Monochrome is a foolproof choice. You can also pair cool, jewel tones with black over-the-knee boots for an elegant look.
Work it with rompers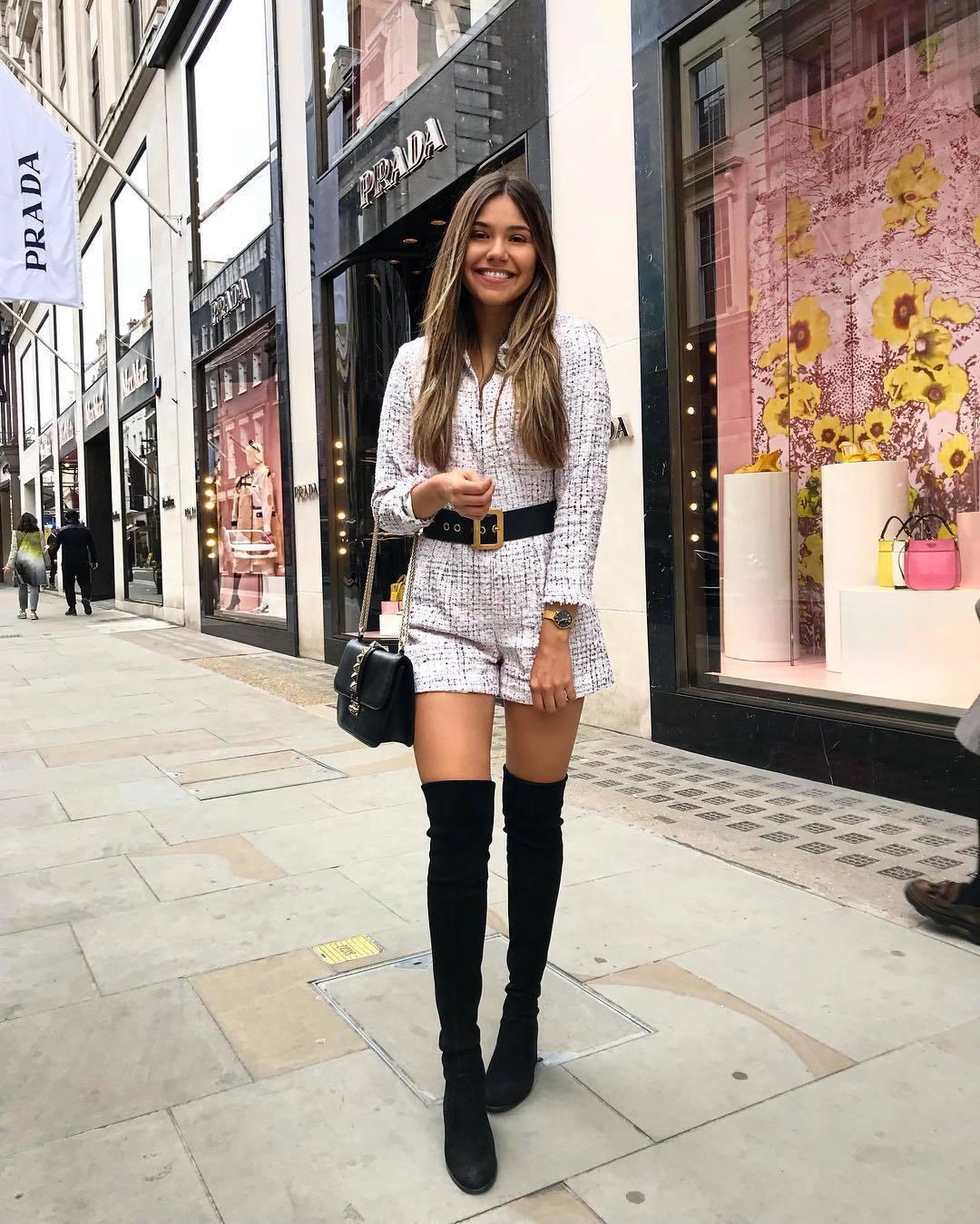 Still not ready to give up your favorite summer romper yet? Well, thanks to over-the-knee boots, you can now wear this summer staple well into the colder months. Simply add a pair of stockings underneath and a long cardigan for extra warmth.
Don't worry about getting cold. This outfit can actually be fairly foolproof. And, don't forget to choose a romper with a fall-appropriate color. Black and brown are preferable since they will match your winter boots perfectly.
Takeaway Message
Over-the-knee boots are truly the star of fall and winter. Not only are they super trendy, but they can also be worn anytime and anywhere. Hopefully, our guide on how to wear over-the-knee boots has given you some gorgeous outfit inspirations. What are you waiting for? Get your boots ready and make a bold statement this fall and winter!