In 2022, fashion with boots is still the best trend. Boots sum up cool, appearing forward edge toughening up your outfit. The trend of boots will never lose its value due to the assurance it bestows for the classiest look. This is absolutely true; no other footwear can match up the enchantment of boots.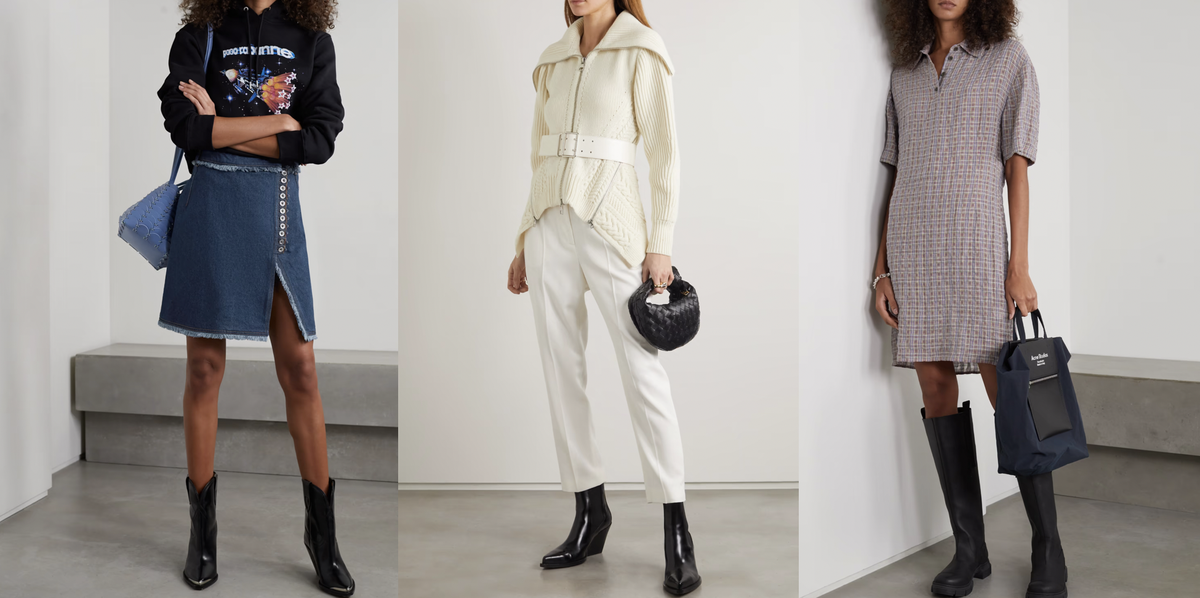 If you want to present yourself as practical and chic, boots should be an essential part of your outfit. But the dilemma is how to wear them? We are here to make it easy by suggesting fascinating outfit ideas which will transform the feeling of being tedious to cool.
Enjoy Your Boot Outfits
Styling with boots makes you feel younger and soulful. But to figure out how to wear boots will be the best thing. Make it simply by following any of the styling ideas with boots enumerated below:
Boots are well known for their cozy and gentle sensation. For the chilled season, sweaters should be your priority for extra warmth. It will be an amazing choice if you do not want to sacrifice fashion due to warmth. The cable knit jumpers, wrapped or Off-shoulder sweaters will make you slay with your look. Choose solid-colored basic sweaters like black, tan, gray, or white.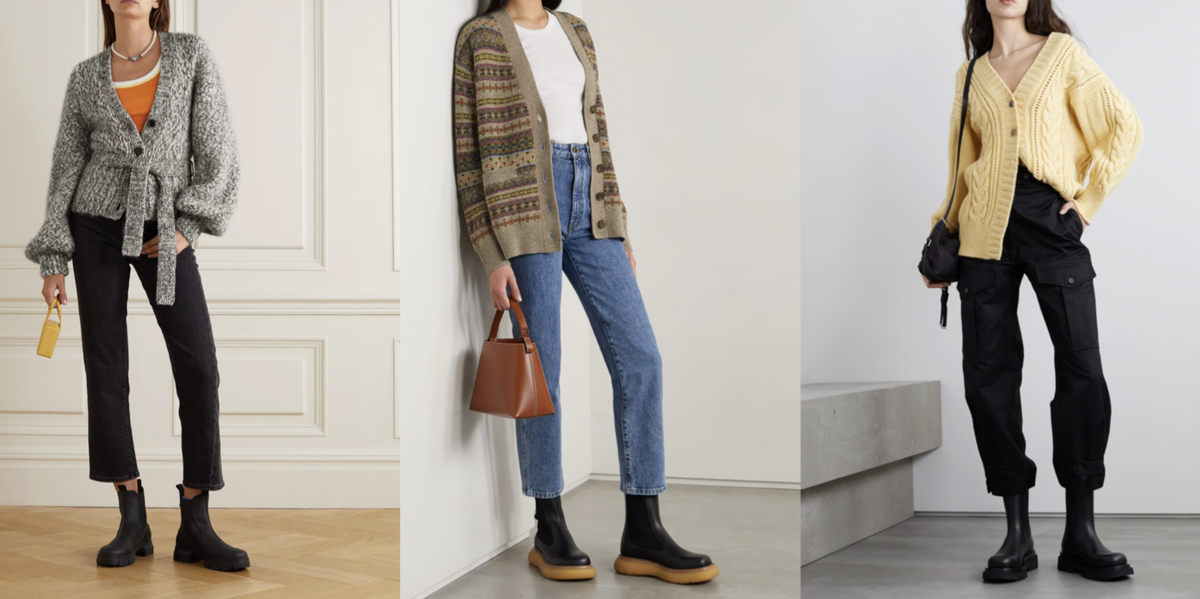 Now, what could be easier than wearing jeans with a sweater? You can simply match a sweater with cropped jeans since it has been the leading fashion trend for a very long time. Make a difference by combining outfits with combat boots. If you love being light and yet modernist, you should try out pairing combat boots with a shirt and cropped jeans. Evenly textured shirts look exceptionally elegant and ensure freshening vibes.
Want to be glimpsed as an admiring and charming woman on the street? Then floral dresses are for you. Floral or feminine dresses are gaining popularity as they look impressively adorable. These dresses are really comfortable and easy to wear. These are simple but pretty. Pairing boots with a beautiful floral outfit lavishes an alternative edge to the look.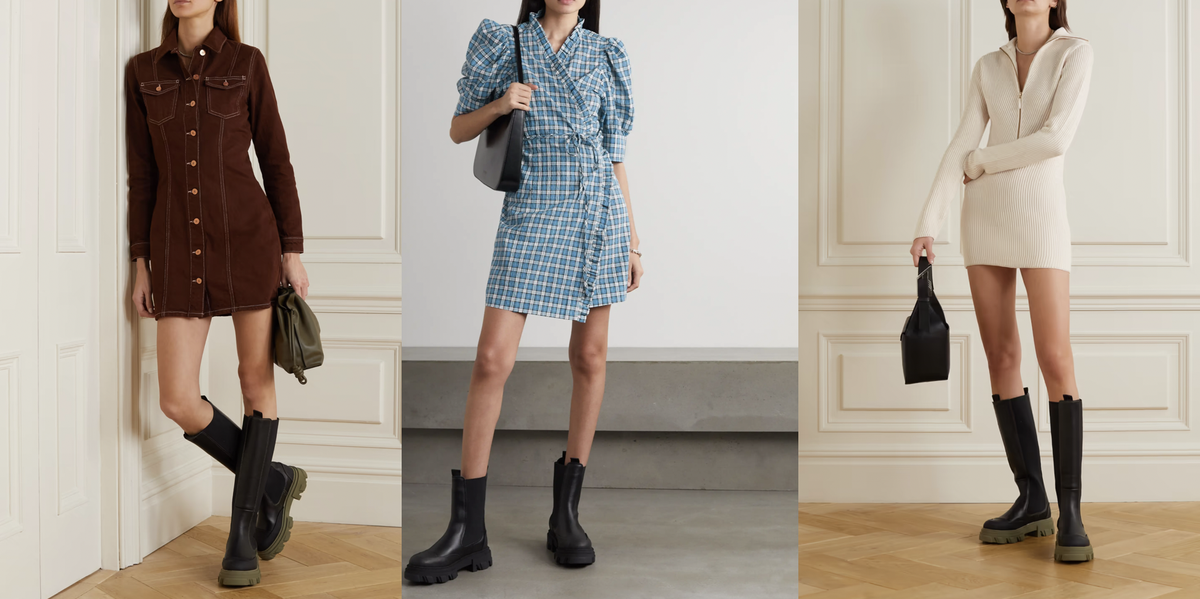 Try out the gratifying combination of boots and sheer floral dress. It seems very lightweight on the body, along with a fabulous appearance due to its gentle fabric. Multiple styles, neck shapes, and sleeve options are available with it. If you want to avoid looking overly cute, a floral puff sleeve dress will be a good choice. Puff sleeve dresses are major differentiators.
If you are a "keep it simple" type person, a leather jacket, bomber jacket or blazer is for you. As simple as your jacket will be, the more formal you appear in it. But, it might also compliment the best casual look when styled properly. You can step out boldly with leather jackets or blazers of solid colors like black or brown.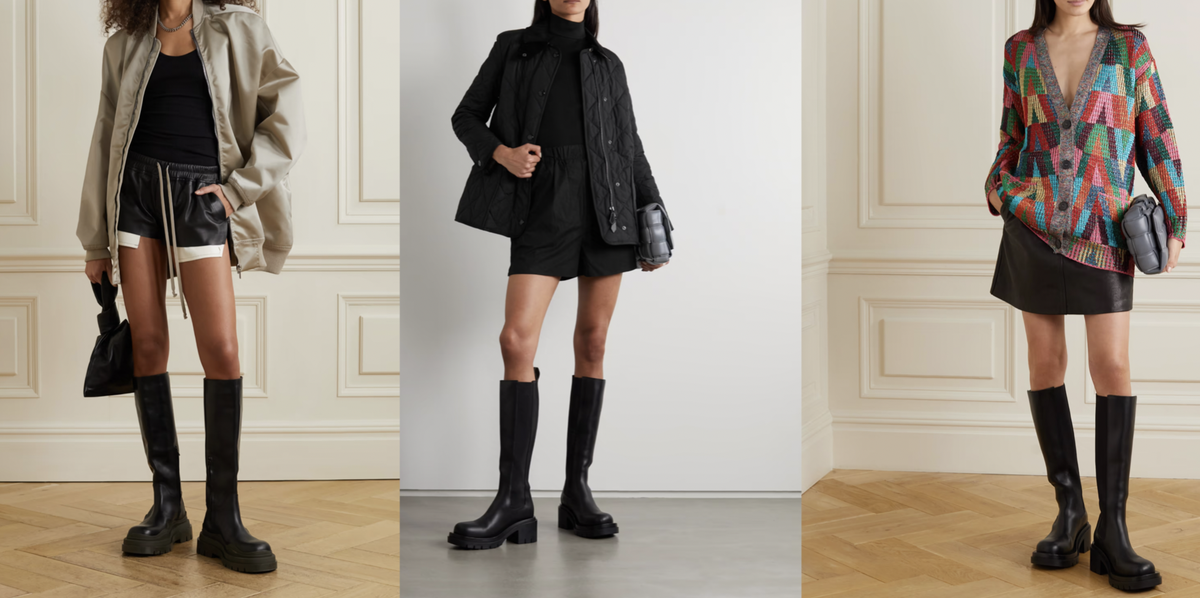 Avoid any chance of inconvenience by choosing a lightweight and comfortable jacket. Now you might be baffled about which lower garment will go best with a jacket or blazer. You should create a most inspiring look by pairing it with a mini skirt or shorts. This combination is bold yet pretty. Match the colors of your outfit. The combination will be finalized with knee-high boots. Go with shiny combat boots and be a cool girl.
4. All Black
Make cooler than ever. All-black outfits might be the most beloved staple in your wardrobe. This time, you can try out the combined look of being evil and elegant. Short black dresses are eye-catching. You get multiple fashion options with your black dress or pants. Also, if you love to be artistic chic, short black dresses are going to be an incredible choice.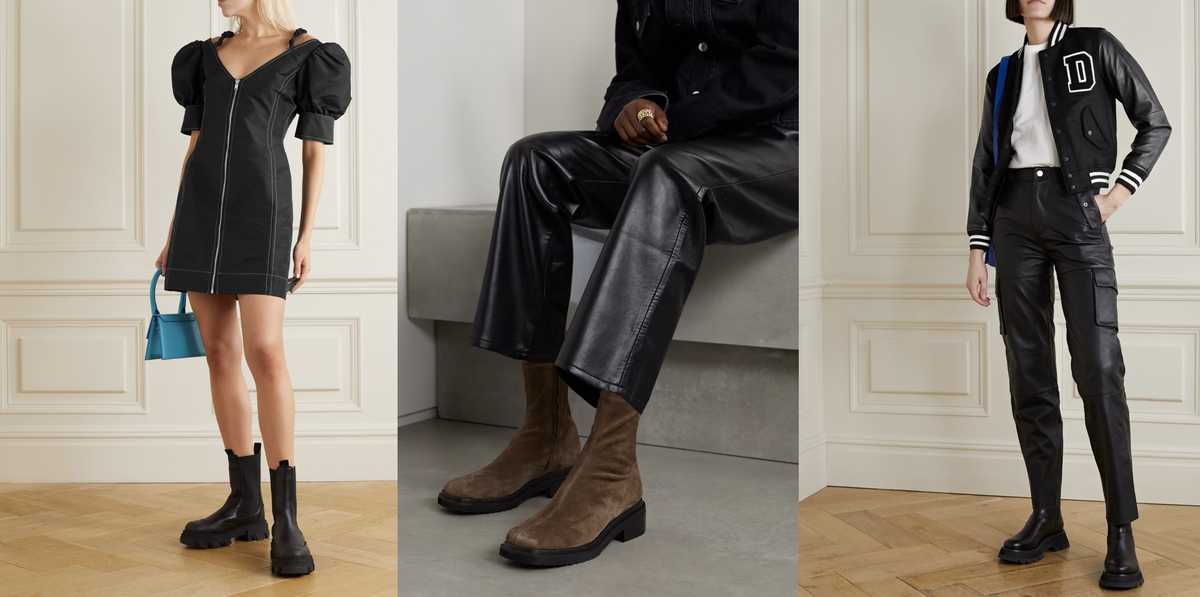 All you need to choose is whether you want to look classic, creative, rebellious, feminine, or relaxed. Accessorize minimally. Whether your dress is tightly or loosely fitted, no footwear other than boots would make you stand out glorious with the short black dress. The combination appears very captivating. You should try wearing a satin little black dress matched up with patent combat boots.
What to wear with boots for an easy, comfortable look? The most prominent answer to this question is to go for breathable or stretchy outfits, which would bring comfort along with confidence. When we are talking about breathable clothes, you might be thinking about oversized outfits. Talking about oversized cardigans , they are dazzling and a perfect choice for crispy days.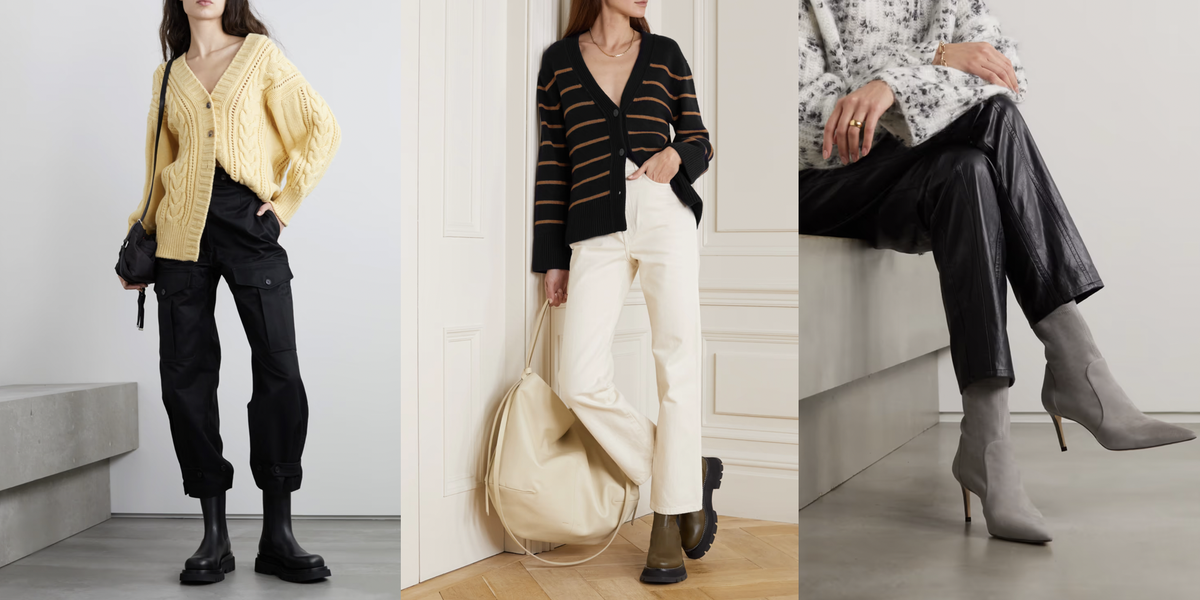 You should avoid cardigans made with bulky material. Size does matter significantly for your look. To retain more ease, you should pair an oversized cardigan with leggings. Leggings are known to provide the best laid-back look. Faux leather leggings are going to be a wow choice. Now you are all set to be a trend leader after putting your combat boots on. Combat boots are versatile and enlighten your confidence.
Denim-style has been one of the most popular and beloved or eternal fashion trends. The denim dress trend is mostly followed by shirt dresses. These all-time favorite denim dresses can be worn in any season and make you look glamorous chic.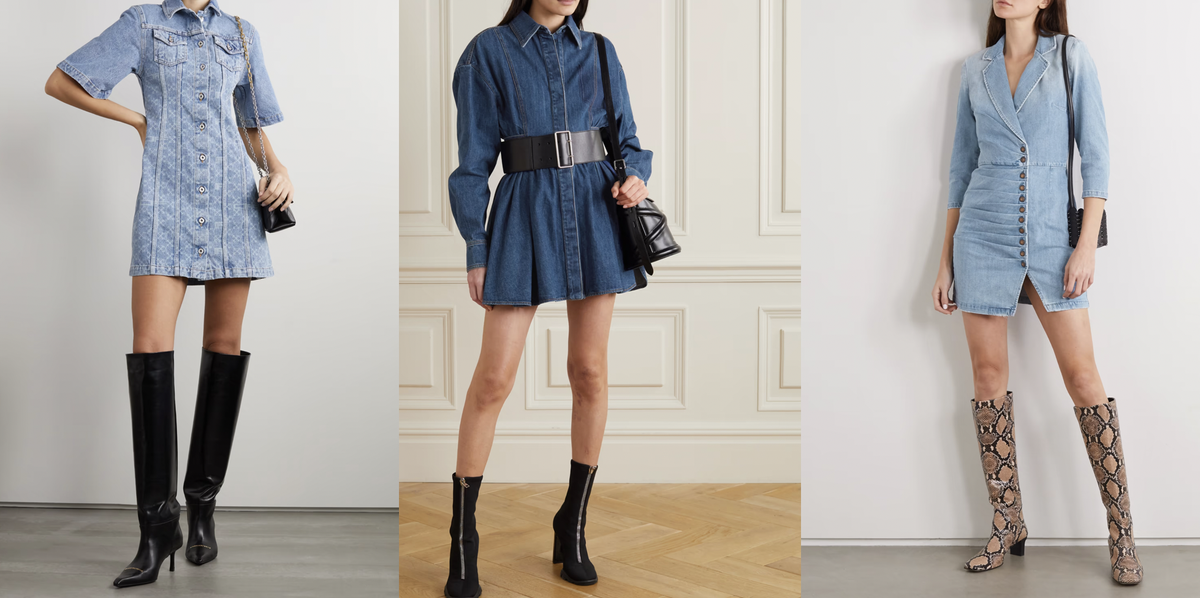 It is a chill way to make layers for cooler days with skinny leggings or bold flare pants. This season, try out a stylish slip or mini denim dress. Be a classic cool lady with a premium pair of knee-high boots. The combination will create a dominant and influential look. Gray or blue-hued dresses along with stunning boots ensure a fascinating rugged look.
Conclusion
Boots are highly versatile and can be gorgeously paired with different outfits. Not only by looks, but also by the grip, ankle stability, and protection it provides to your foot. This year, boots are going to dominate the trend.