Who doesn't love s'mores? This glorious campfire treat evokes memories of summer nights filled with joy and laughter. And of course, the godly combination of chocolate, marshmallows, and graham crackers are unbeatable. There's a reason why it's loved by children and adults alike.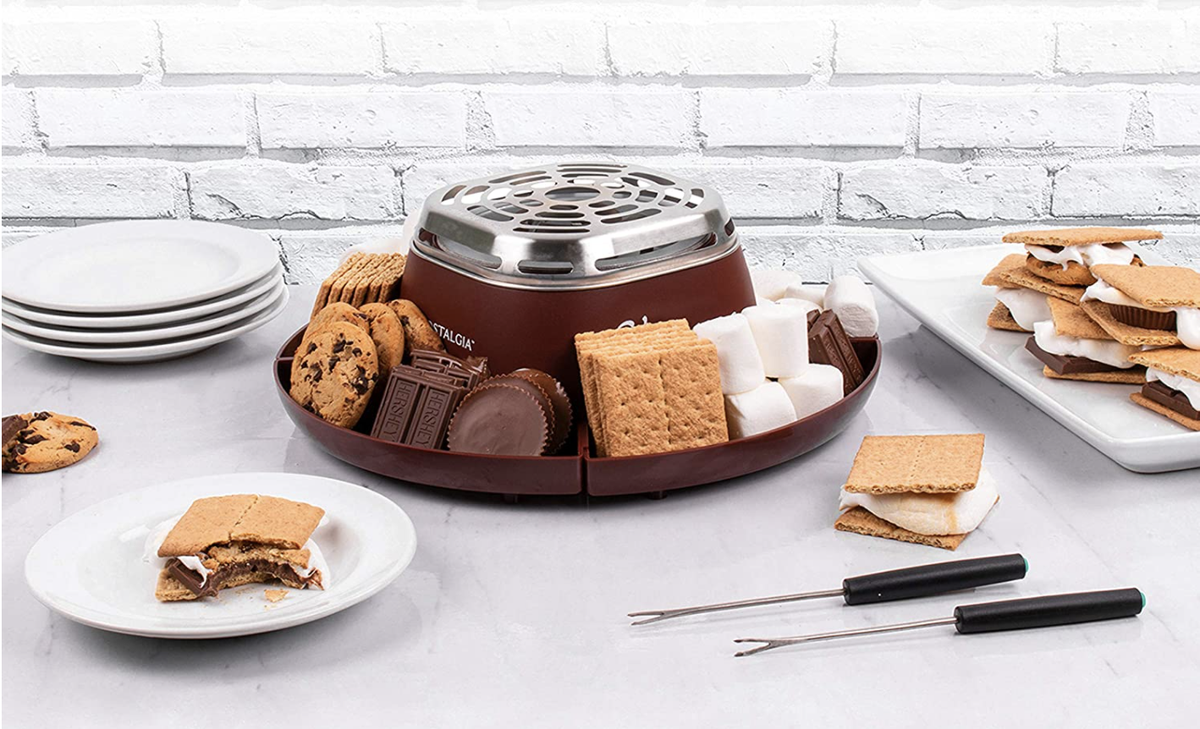 While there's beauty in sticking a marshmallow on a stick and roasting it over the campfire, the preparation alone can take so much time. Plus, not everyone has the luxury of setting up a campfire in the great outdoors. Not to worry, there are some amazing s'mores makers and machines that can help you create your favorite snack with no hassle.
1. Nostalgia Electrics S'mores Maker
Rainy day? Can't go outside? You can still make some delicious s'mores in the comfort of your own home with Nostalgia Electrics S'mores Maker.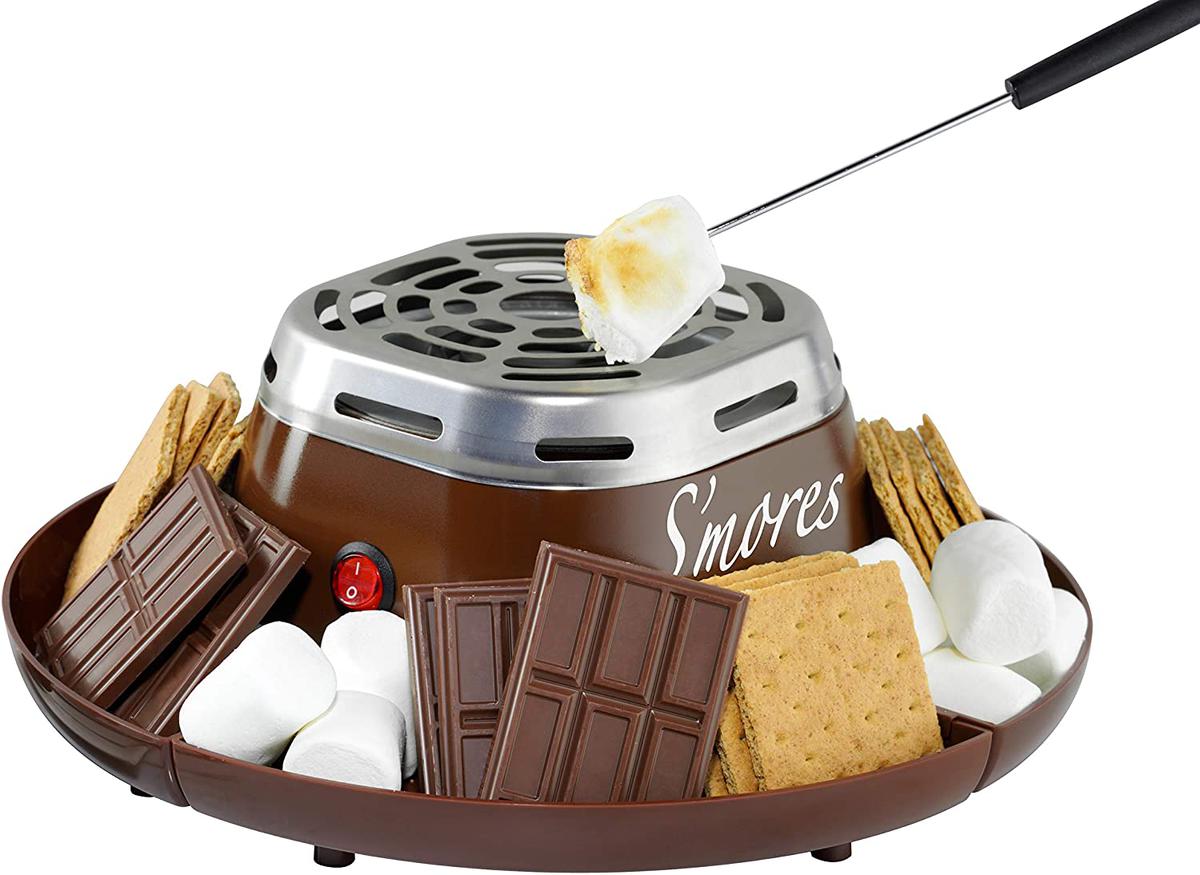 This tabletop electric heater will help turn your marshmallow golden brown and gooey. It's flameless, doesn't produce any smoke, and perfectly safe to use indoors. The two included roasting forks will help keep your hands safe and away from the heat. It's super durable and built to last. Lastly, its removable trays make cleaning a breeze. Truly one of the best s'more makers in the market.
2. Microwave S'mores Maker
Sure, making s'more is fun, especially with your loved ones. But admit it, sometimes when the craving arrives, you just want to eat those delicious treats immediately. Say hello to Progressive Prep Solutions Microwave S'mores Maker.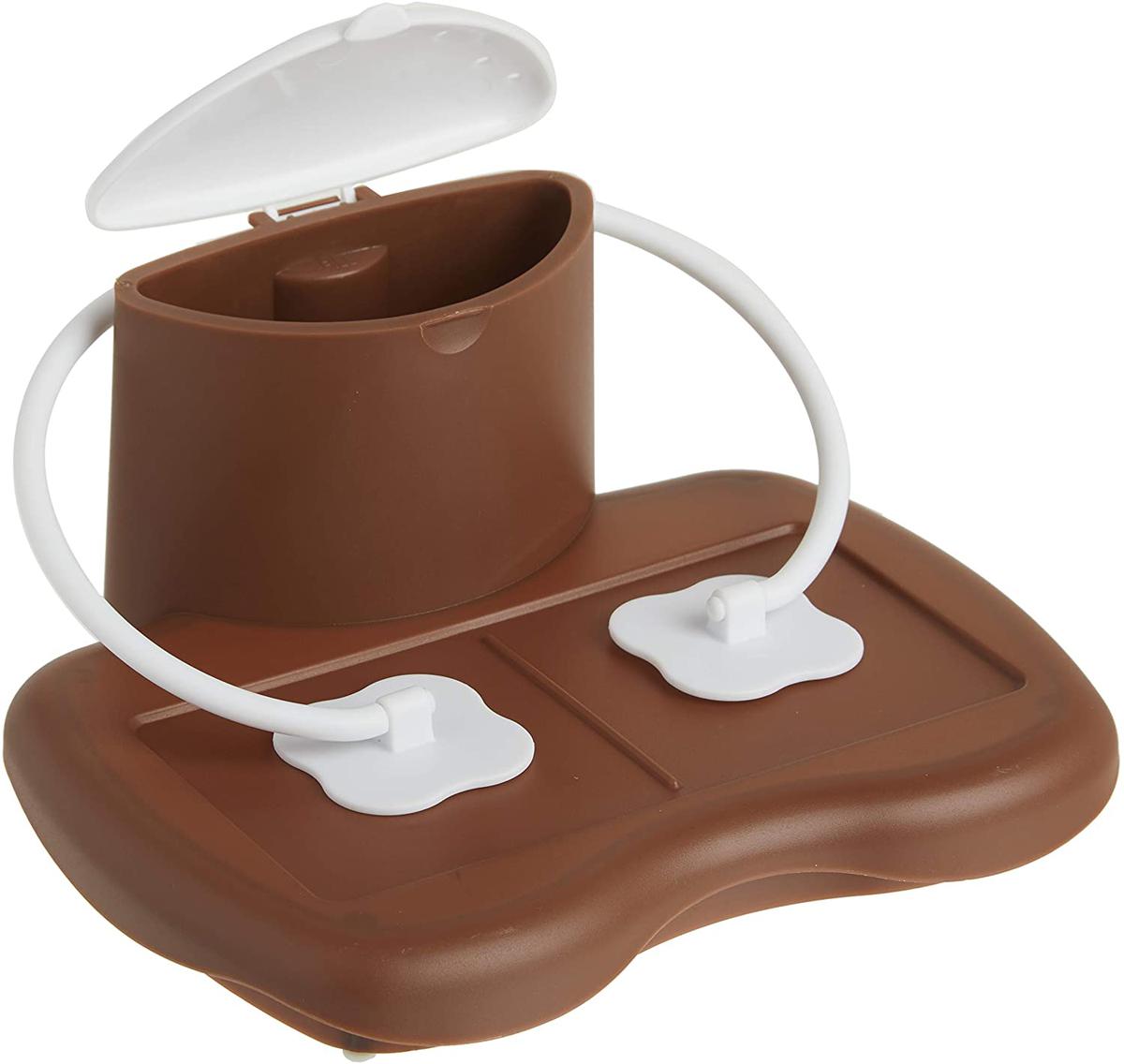 As the name suggests, this device will help you make two s'mores with a microwave in just 30 seconds! It's super easy to use, even a kid can do it! Just place your graham crackers, chocolate, and marshmallow on this nifty gadget, fill the water reservoir and pop it in the microwave. Just like that and your s'mores are ready to eat. This gadget is perfect for young kids and adults on lazy days.
3. S'more to Love S'mores Maker
Got a BBQ bonanza coming up? Do you know what will make it even better? S'mores! Make a whole lot of s'mores for your entire family with this convenient s'more grilling tool.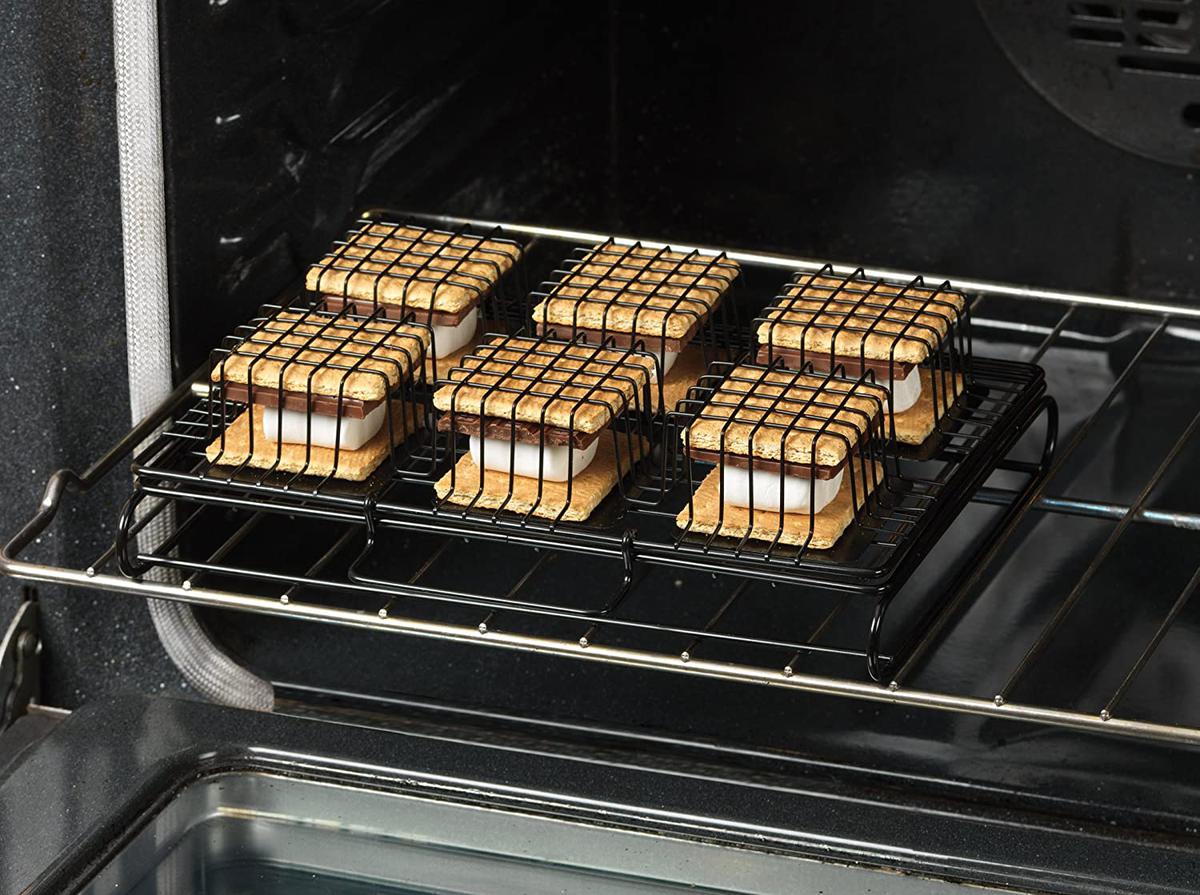 This neat tool can help you make 6 perfect s'mores easily in just 5 minutes, making it perfect for big families and parties. It stacks the s'mores and securely keeps them in place, so you don't have to worry about any spillage. Better yet, it fits perfectly inside a BBQ grill, making it a must-have tool for BBQ parties. Don't have a grill? Not to worry! This tool works just fine in an oven or toaster oven as well.
4. ChefMaster Cast Iron Mini Hibachi Grill
Why stop at s'mores? How about making other grilled treats? ThisChefMaster Cast Iron Mini Hibachi Grill is the best multifunctional grill for indoor cooking fun!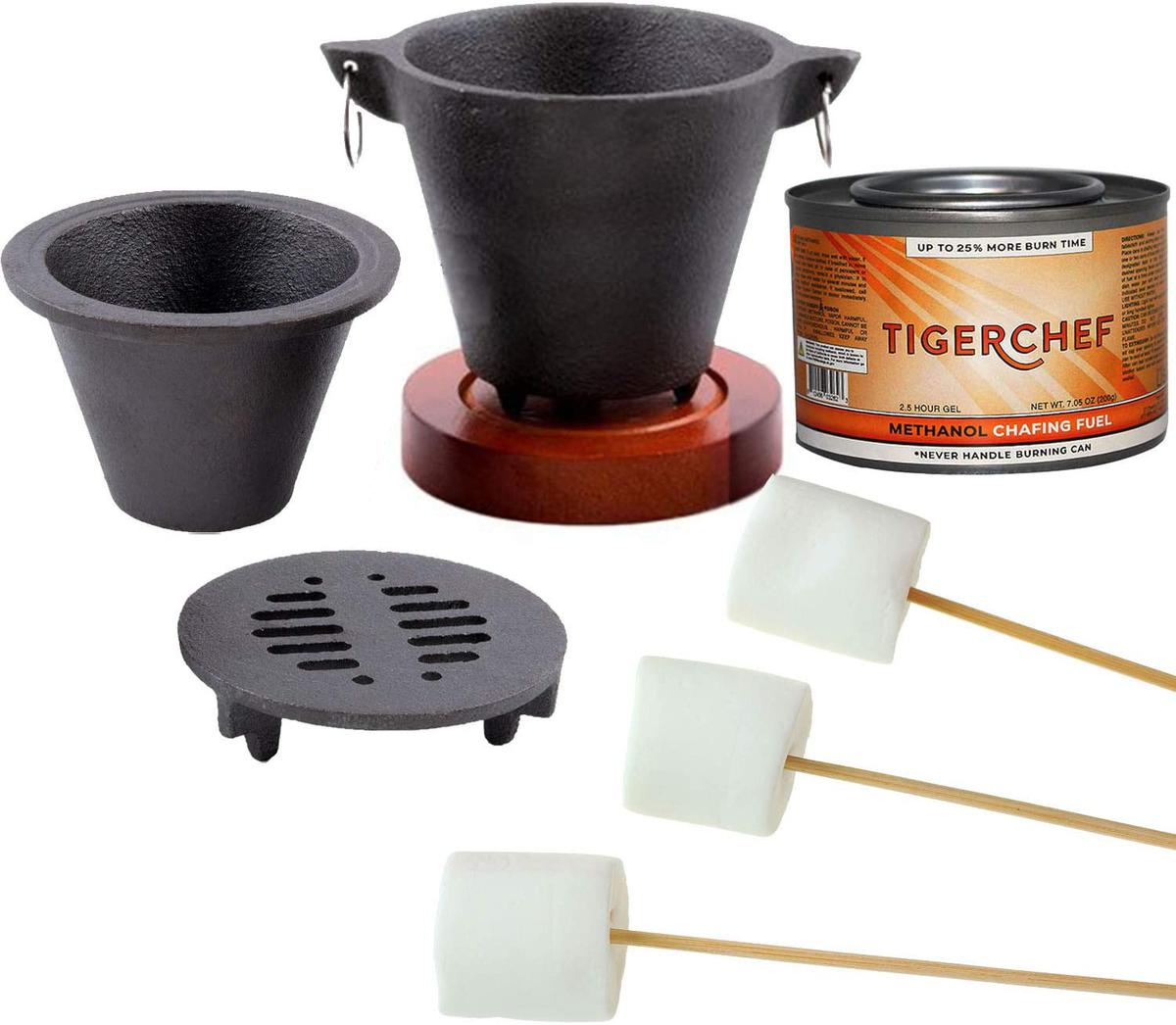 This cute mini grill is super small, just perfect for making individual s'mores. Made with durable cast iron, this grill is built to last and heats up quickly and evenly. Ideal for roasting the perfect s'mores. It's powered with fire gel, so it's easy and safe to use, plus it doesn't emit a lot of smoke. This grill is perfect for a small family's slumber party.
5. Sterno Family Fun S'mores Maker
Got a party coming up? Want to make everyone happy? Satisfy everyone's sweet tooth with Sterno Family Fun S'mores Maker.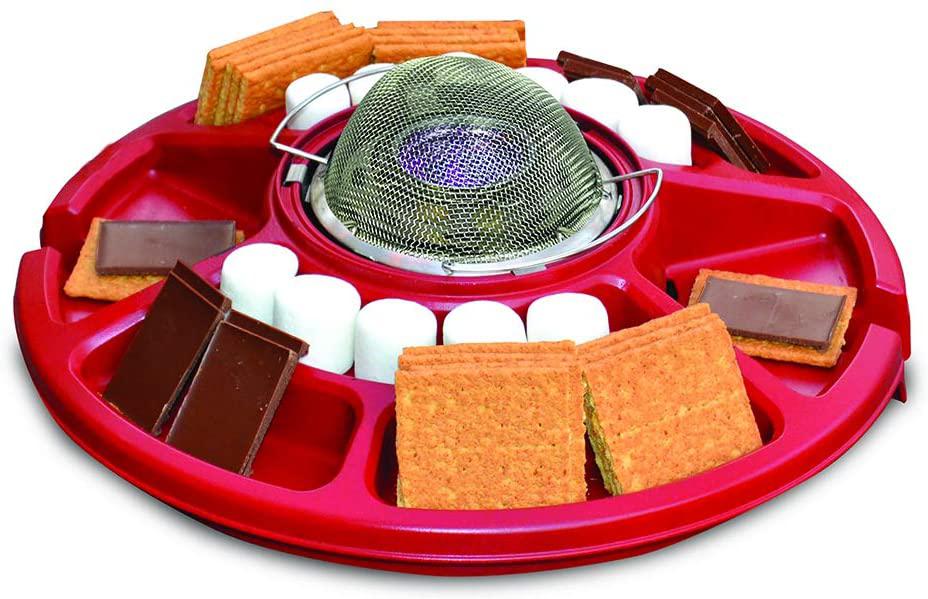 This bright red s'mores maker is perfect for indoor and outdoor events alike. This gadget is powered with a proprietary heat fuel, creating a nice small flame, just enough to roast s'mores to perfection. It features a roasting screen to protect everyone from the flame. With two built-in s'mores-making stations, it's perfect for large gatherings. Better yet, this s'mores maker is also dishwasher-safe, so cleaning will be a breeze.
6. Chicago Metallic Smores Maker
S'more makers don't need to look like they belong at a 7-year-old's birthday party. Chicago Metallic S'mores Maker has a gorgeous, minimalist design that will look amazing in your apartment's living room.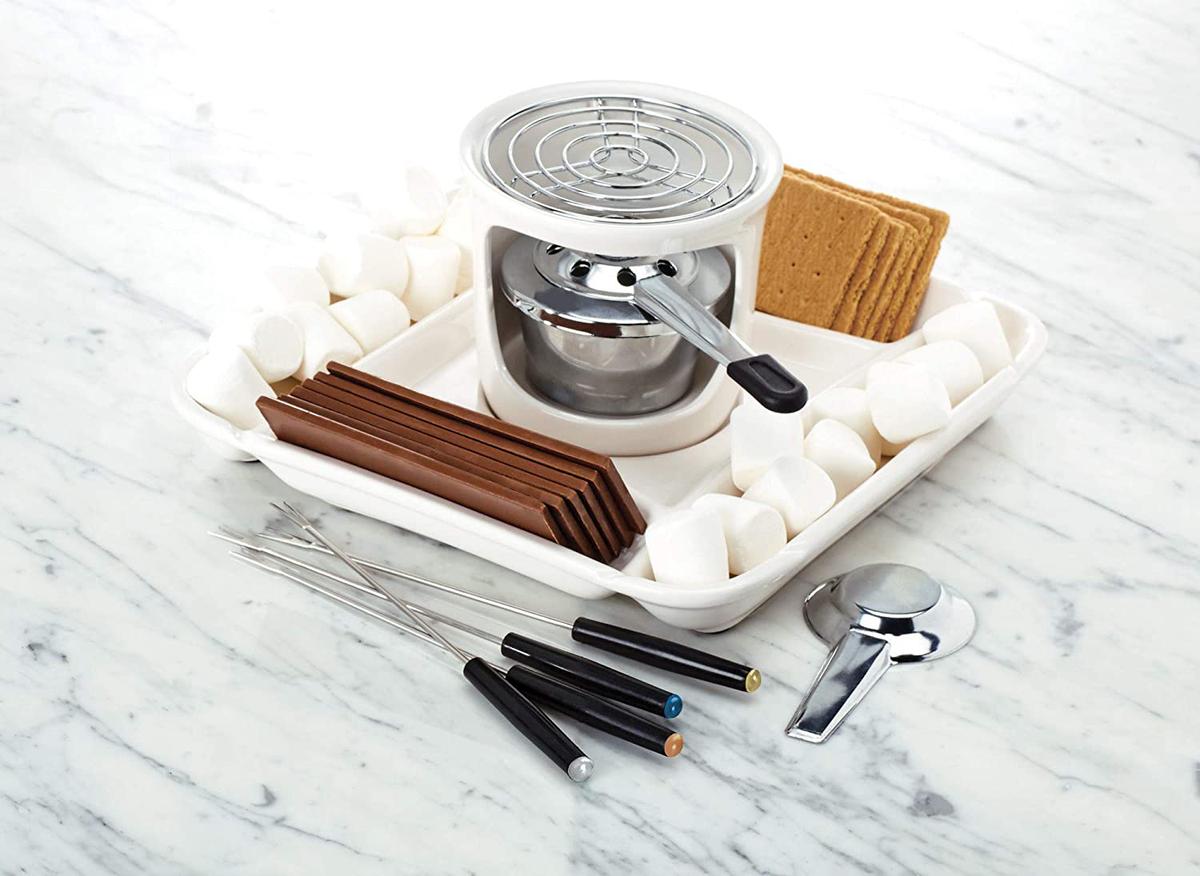 This sleek tabletop s'mores maker can be used indoors and outdoors, without the need for wood. It includes 4 roasting sticks, so you can use them to make s'mores together with your best friends. This tool is built to last, the grill top is made of durable stainless steel, while the serving tray is made of ceramic. The parts can be taken apart, making the cleaning process easier for you.
7. City Bonfires
Okay, let's admit it, sometimes we just want to roast marshmallows on an open fire. After all, it makes the s'mores more enjoyable and authentic. But what if you can't set up a proper campfire? City Bonfires portable fire pit is here to the rescue!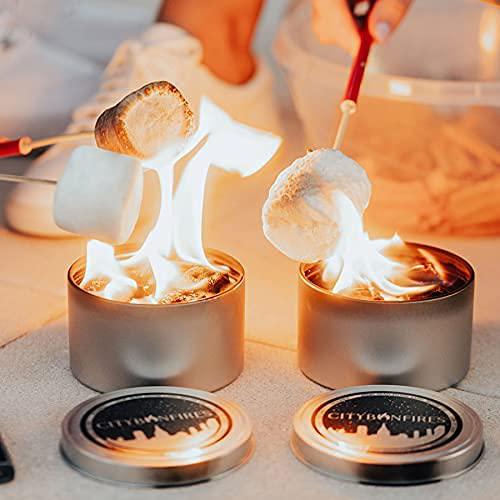 This portable outdoor fire pit is perfect for those who have limited outdoor space. It can be set up on patios, decks, and small backyards with no hassle. This portable fire pit is small and convenient to carry around. That said, it still packs a punch. It emits a generous, consistent flame that can last 3 to 5 hours. It's the perfect tool for everyone who wants a no-hassle, yet still authentic s'mores making experience.
Closing Thoughts
Let's admit it, s'mores are the ultimate summertime snack. Perhaps for the whole year as well. But, setting up a campfire just to make some s'mores doesn't sound very convenient. So, we hope you enjoy this list of amazing s'more makers. Which one is on your shopping list?