Thanks to popular influencers and fashion elites, such as Bella Hadid, Adut Akech, and Kendall Jenner, sweater vests are making a comeback. Gone are the days where drab sweater vests are only worn by dads and grandpas. Today, stylish sweater vests are worn by It Girls all over the world.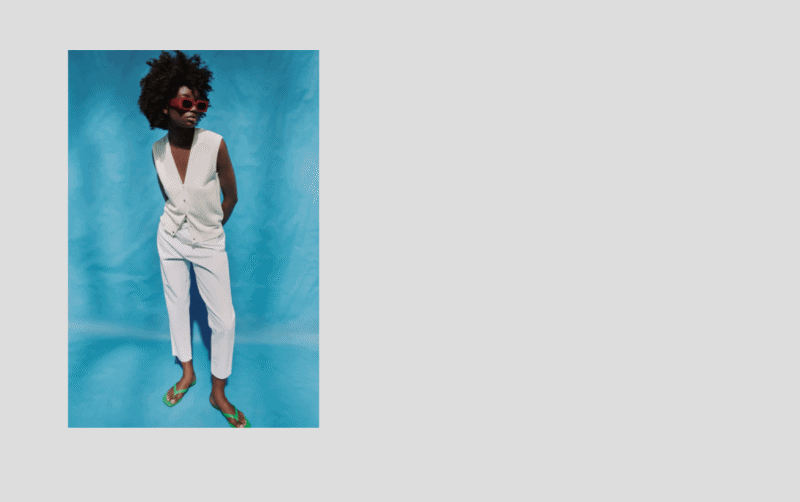 There are plenty of cute styles, from cropped to oversized vests. They also come in an array of prints and colors. From bright and cheery to elegant and preppy, there's something for everyone. If you're excited about this new trend, why not check out these 6 amazing ways to style sweater vests?
Office-Appropriate
Chunky and patterned knitted vests are elegant and timeless. They're also perfect for offices and other business occasions. Try pairing a solid-colored knitted sweater vest with a fitted shirt and some trousers. Monochromatic looks will never go out of style. They look elegant, effortless, and downright gorgeous. Try it by choosing a solid-colored sweater vest. Then, layer it on top of a dress or shirt with a similar color. Don't forget to accessorize with similarly colored pieces as well.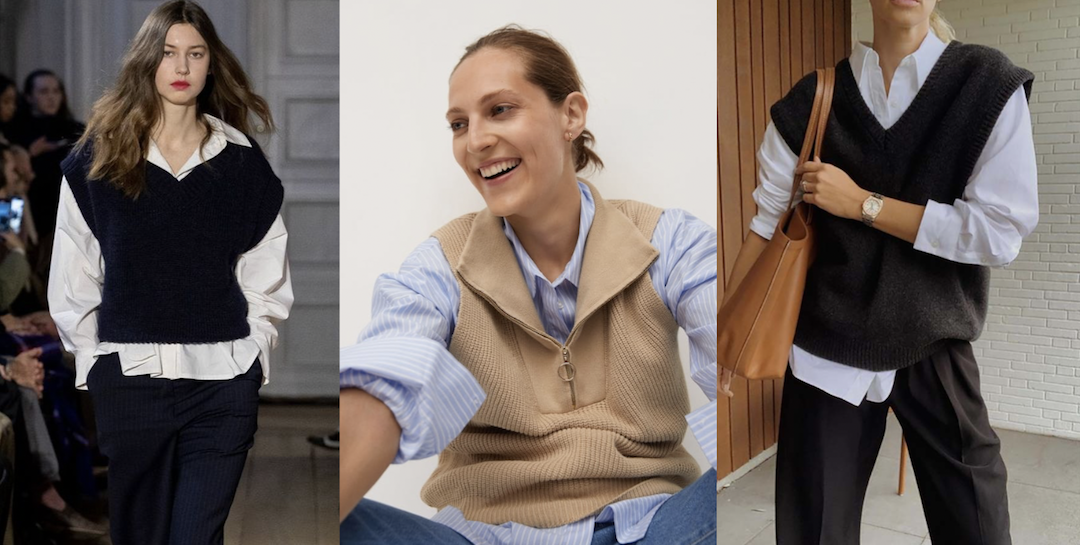 White and black are the classic choices for monochromatic outfits, but you can spice it up with other brighter colors, such as red, green, blue, or even purple. Keep it chic with a pair of solid pumps and a shoulder bag to carry all of your stuff.
90's Vintage
Channel your inner grunge kid with a dark cropped knit vest. Wear it on its own as a cute but edgy top or wear it with a white T-shirt underneath. Pair with low-waist black jeans to complete the 90's inspired look. A pair of chunky ankle boots and sunglasses will make you look even cooler.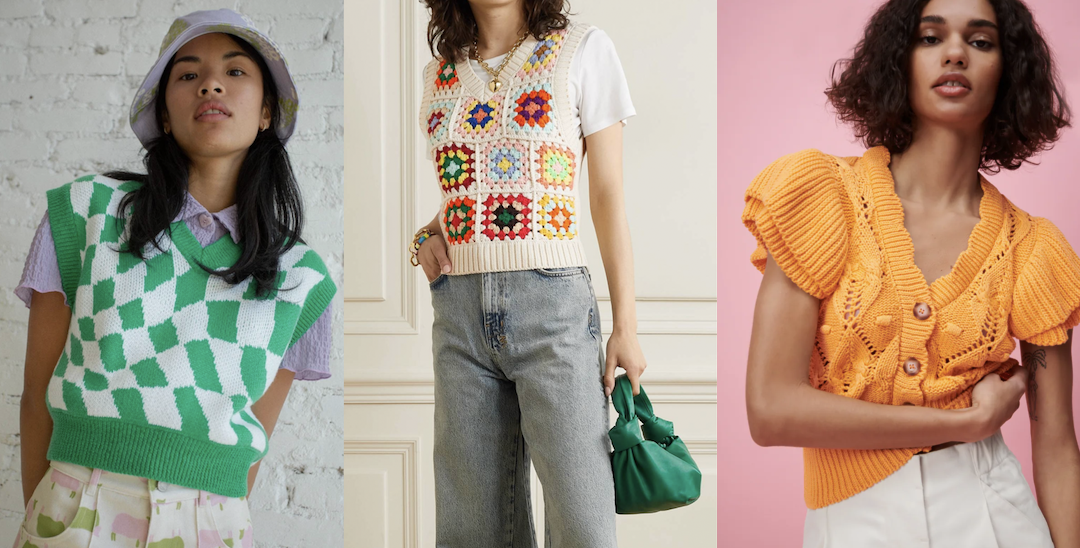 Or find some super vintage, remember the outfits your grandpa used to wear? Who knew that they'd be considered stylish these days? Here's how you can wear a vintage-inspired outfit without looking drab. The focal point here is the sweater vest. Choose something with fun patterns and bright, interesting color. Then, pair it with a light-colored button-up shirt and some neutral-colored slacks. A pair of round glasses or a silk scarf would look amazing with this outfit.
Preppy and Academia
Sweater vests have always been a staple in preppy outfits. So, why not emulate that fun and preppy style from the early 2000s? Choose a light-colored or patterned sweater vest, the classic fit works perfectly, but oversized vests will make you look youthful and cute.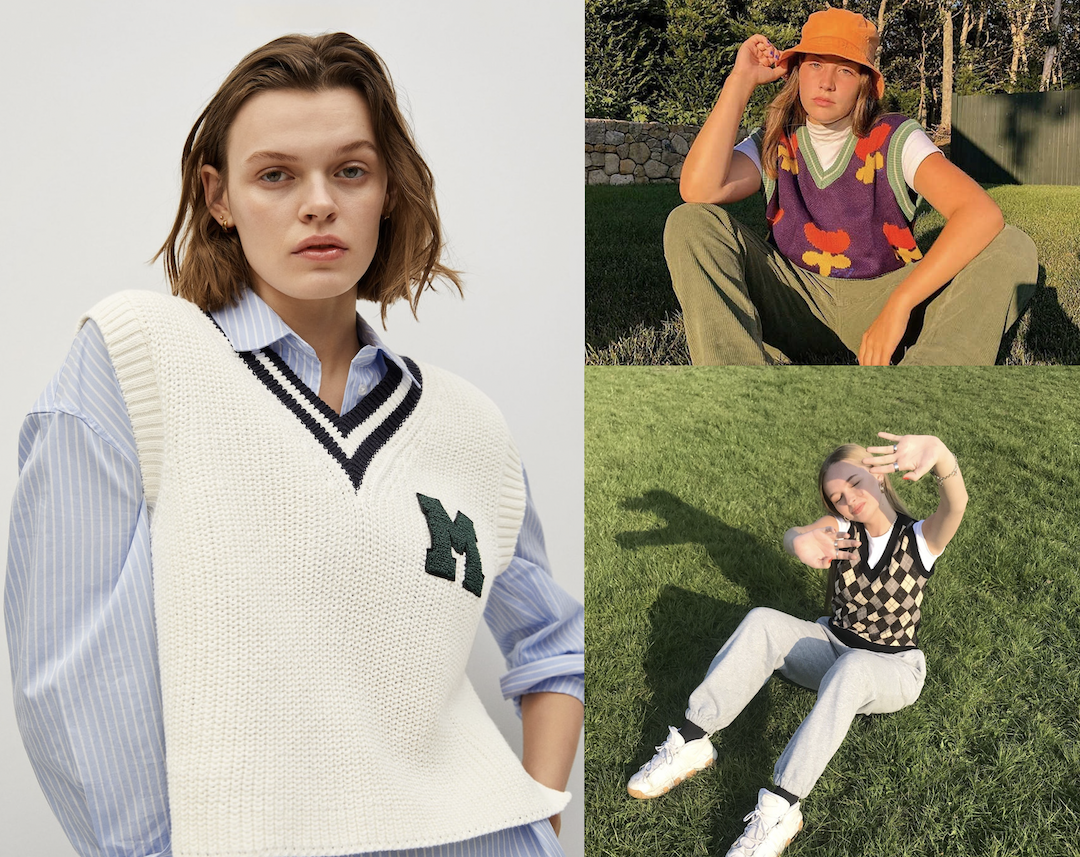 Dark academia is a famous style aesthetic on social media these days. The style is reminiscent of the classic school uniform look with a touch of elegance and individuality. Emulate this style with a well-fitting sweater vest. Wear it with a button-up shirt or a turtleneck for a timeless look. Remember to choose a neutral color palette for this outfit. Don't forget to add accessories, such as a hat, glasses, tie, or a shoulder bag.
Casual Oversized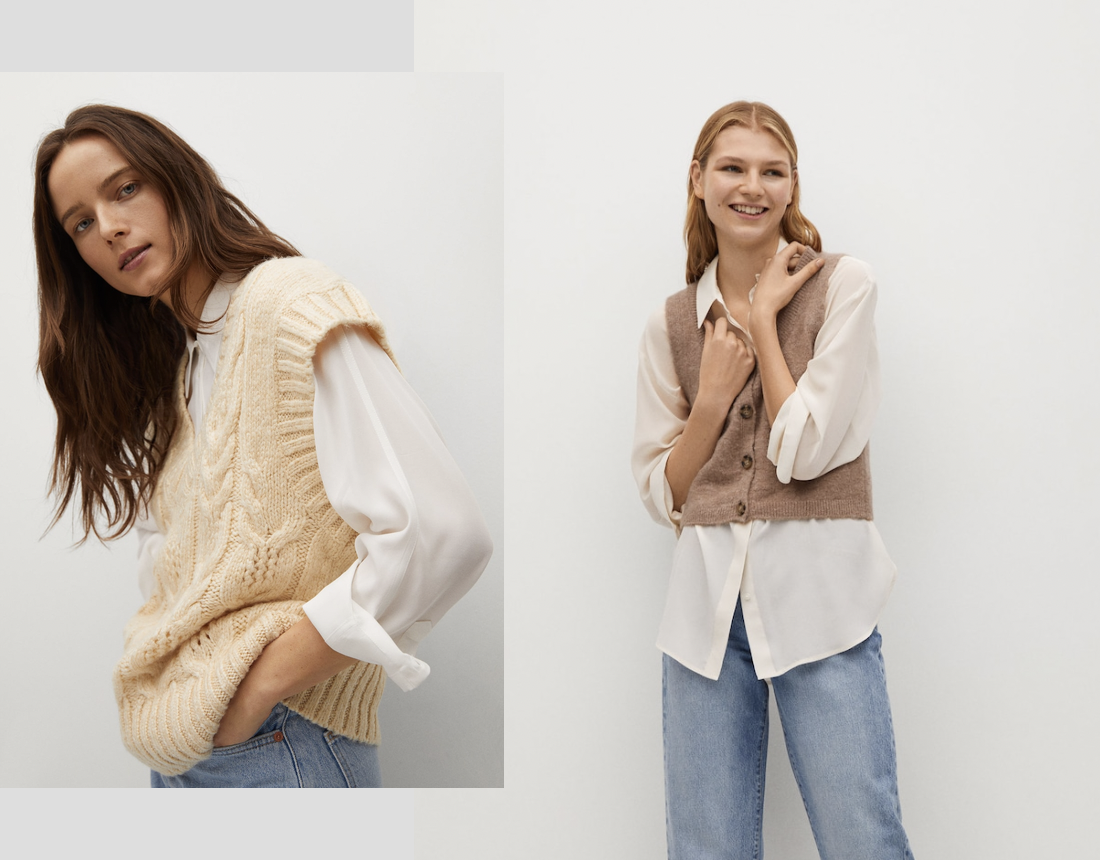 You don't need constricting, tight-fitting clothes to look fashionable. Oversized outfits, especially those with huge sweater vests, are in right now. Outfits like these are usually comfortable and look chic yet casual. Try pairing an oversized sweater vest with an equally shirt and boyfriend jeans for a cute, relaxed look. Or, you can also pair it with one form-fitting piece, such as a pair of straight-cut jeans for a more put-together appearance.
Cottagecore Aesthetic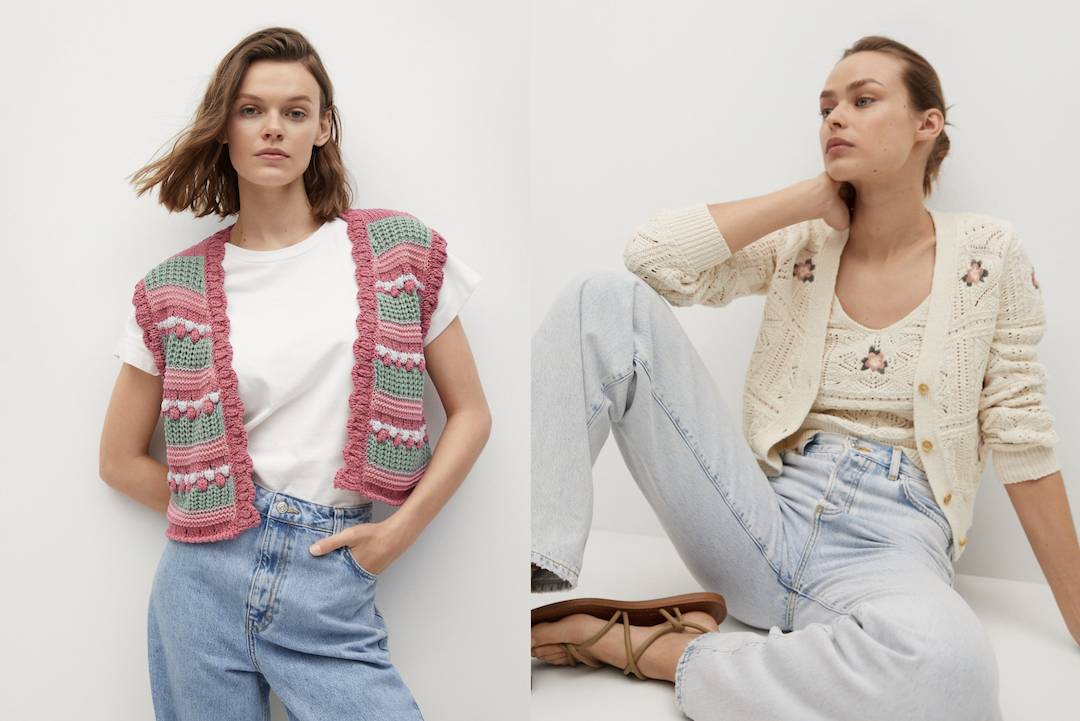 Cottagecore is another trending social media aesthetic. Cottagecore celebrates the idea of rural life and thus, it incorporates elements of nature into the aesthetic. This particular styling will look amazing for girly girls. For a cottagecore look, pick a pastel-colored sweater vest with nature-inspired patterns, such as flowers. Try pairing it with a flowy dress and accessorize with a bunch of dainty jewelry to complete the outfit.
Layers and Layers
Cozy and warm, a layered outfit is perfect for cooler weather. Sweater vests are particularly great for adding a layer to your outfit without making it look bulky. The principle behind this outfit styling is simple, just wear multiple clothing items with minimal patterns and neutral color palette to avoid clashing. For example, try a white button-up shirt, a pair of medium-washed jeans, a solid black sweater vest, and top everything with a long beige coat.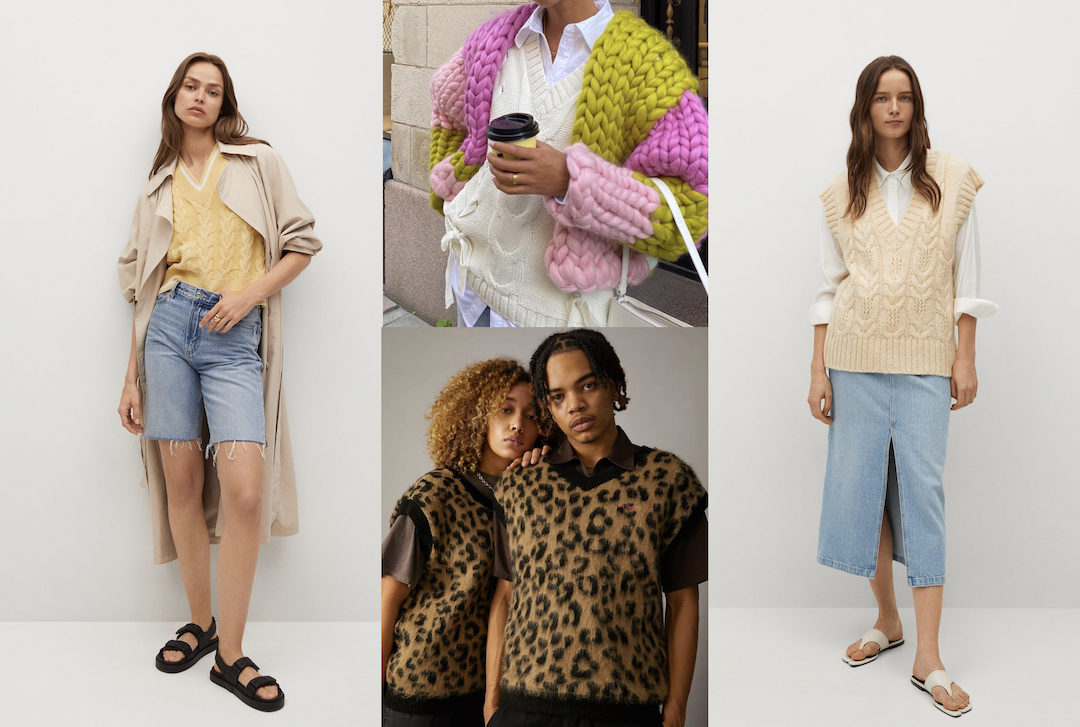 In fact, adding mixed patterns can help you create a unique, layered outfit. For fashion rookies, try two patterns at a time. Start with a fun pattern on your sweater vest and a more muted or classic pattern on your trousers, such as plaid or stripes. If you're feeling adventurous, you can add more patterned pieces to your outfit.
Closing Thoughts
Cute and comfy, you can not go wrong with sweater vests. We hope this list has inspired you to include sweater vests into your wardrobe. Remember, if celebs and influencers can pull it off, then so can you!