The days are getting longer and hotter. Summer is finally coming and the water is calling! As restrictions ease, pools and beaches will soon start drawing crowds once more. So, get ready to make a splash with some fun and cute swimsuits.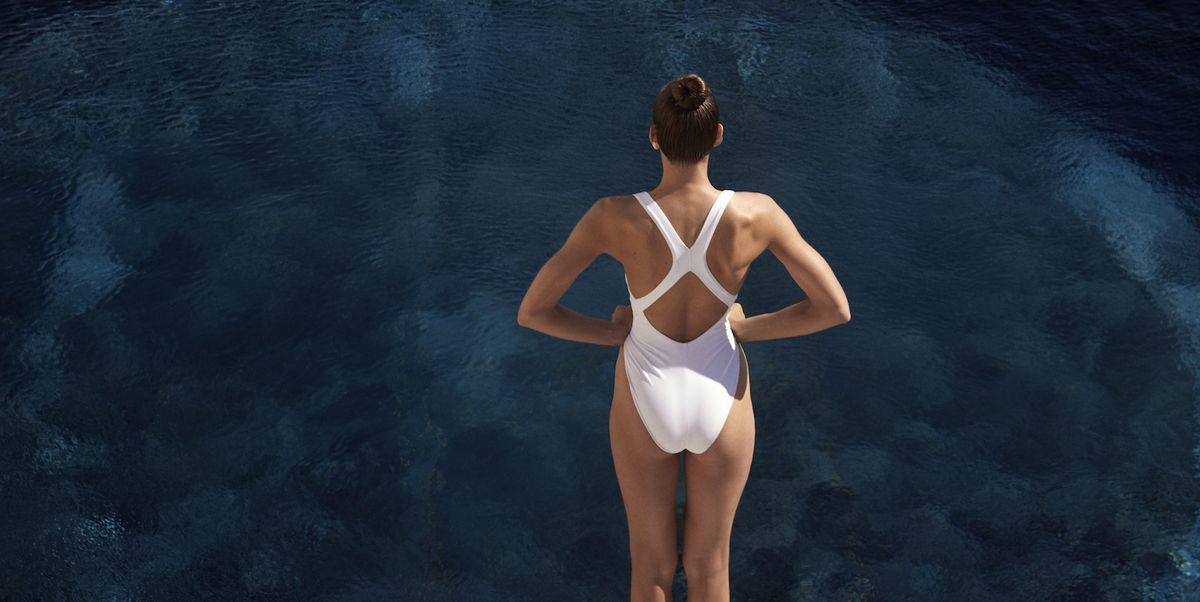 In summer 2021, nostalgia is the main keyword. Some classic, beloved swimsuit trends are coming back with a twist. Think elegant yet wild animal prints and retro-styled neons. You'll also be seeing a bunch of gorgeous silhouettes, from barely-there string bikinis to bra-style swimsuits with more support. Without further ado, here are some of the hottest, must-have swimsuit trends for summer 2021.
1. Glam Cutouts
Cutouts have been a recurring trend year after year. This year, they're coming back, and for a good reason! Alluring and flattering on all body types, what's there not to love? In addition to the regular side cutouts from the past years, you'll be seeing keyhole cutouts more often this summer.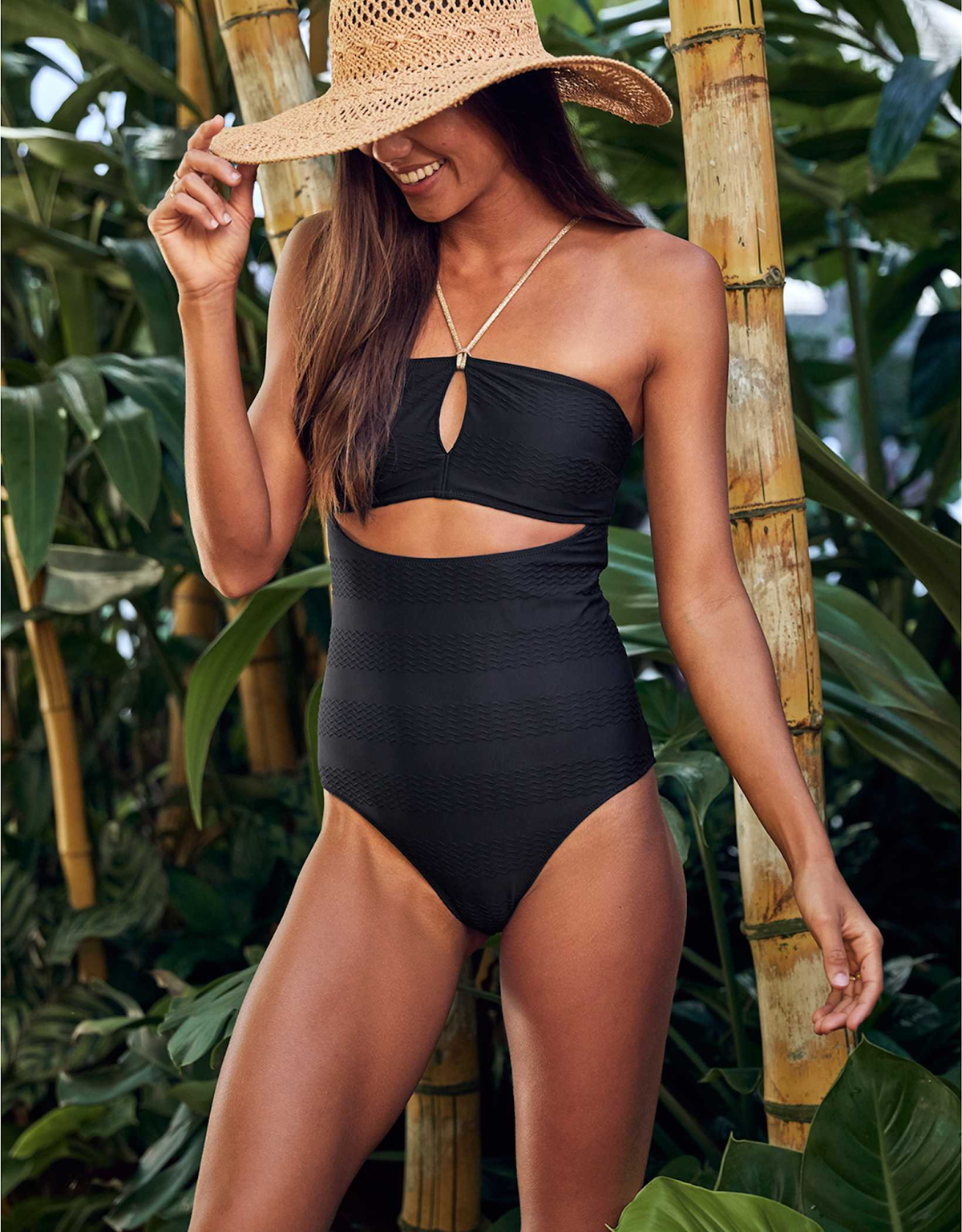 As seen in this Aerie Jacquard swimsuit, the subtle and strategically placed cutout will instantly amplify your natural curves. Keyhole cutouts are perfect for showing off your summer bod without revealing too much skin.
2. Asymmetry Is Sexy
Asymmetric swimsuits are another recurring trend this summer. Perfect for accentuating your curves, they're also extremely flattering for all body types. One-shoulder swimsuits will be particularly huge this season. But if you're more of a "less is more gal", you can also opt for swimsuits with one wide strap and one skinny strap.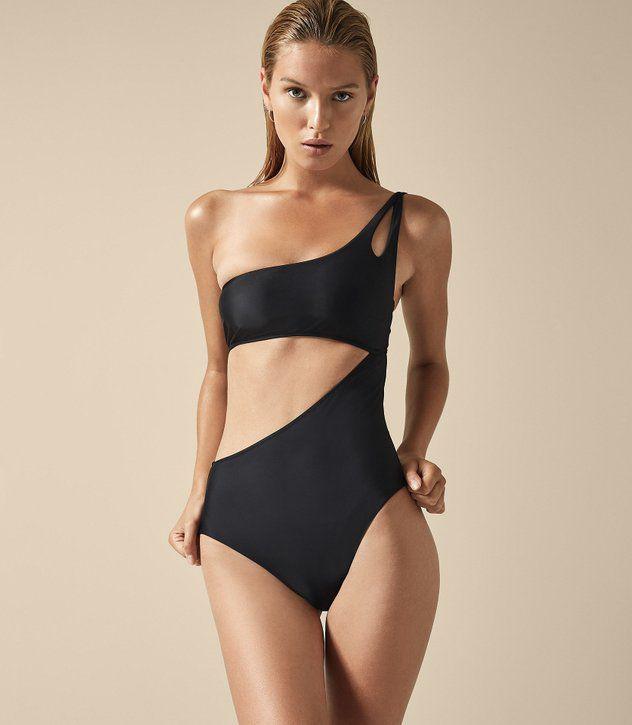 Beginning Boutique's 9.0 Swim x Ariella Aquata is channeling this trend perfectly. This swimsuit's lush mint green color will make you look fresh during a hot summer afternoon.
3. Sculpted Underwire
Say goodbye to those teensy weensy bikinis that are not secure. Now, you can offer support for your girls without sacrificing style. This summer, sculpted underwires will give your girls extra lift and support, great for capturing your Instagrammable moments.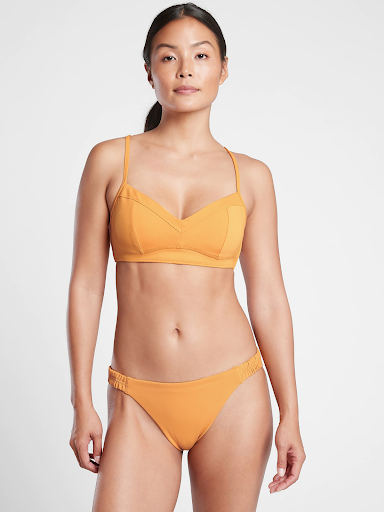 Check out this gorgeous bikini from Athleta. Supportive yet still super stylish, this sporty update is perfect for those of you who love staying active on the beach.
4. Wild and Free
Tap into your wild side with sophisticated animal prints. It has long been considered a staple in everyone's swimsuit collection, and for a good reason. Animal motifs are neutral yet unique, they can be paired with literally anything.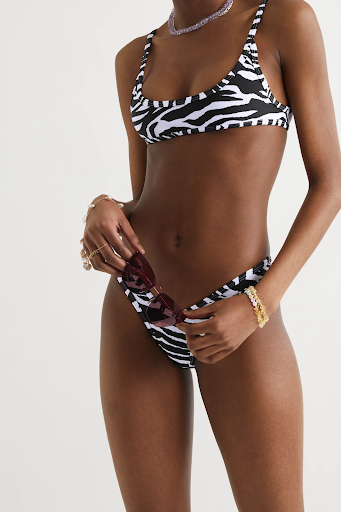 While cheetah and leopard prints are considered a timeless classic, their popularity is declining this year. The more understated tiger and zebra prints, like this Net-A-Porter bikini, will take the top spot this summer.
5. Soft and Comfy
Let's admit it, after a year of staying inside, we all have gotten accustomed to wearing cozy loungewear. Swimsuits in summer 2021 will reflect that. Soft-to-touch fabrics are in! So, goodbye annoying and scratchy swimsuits!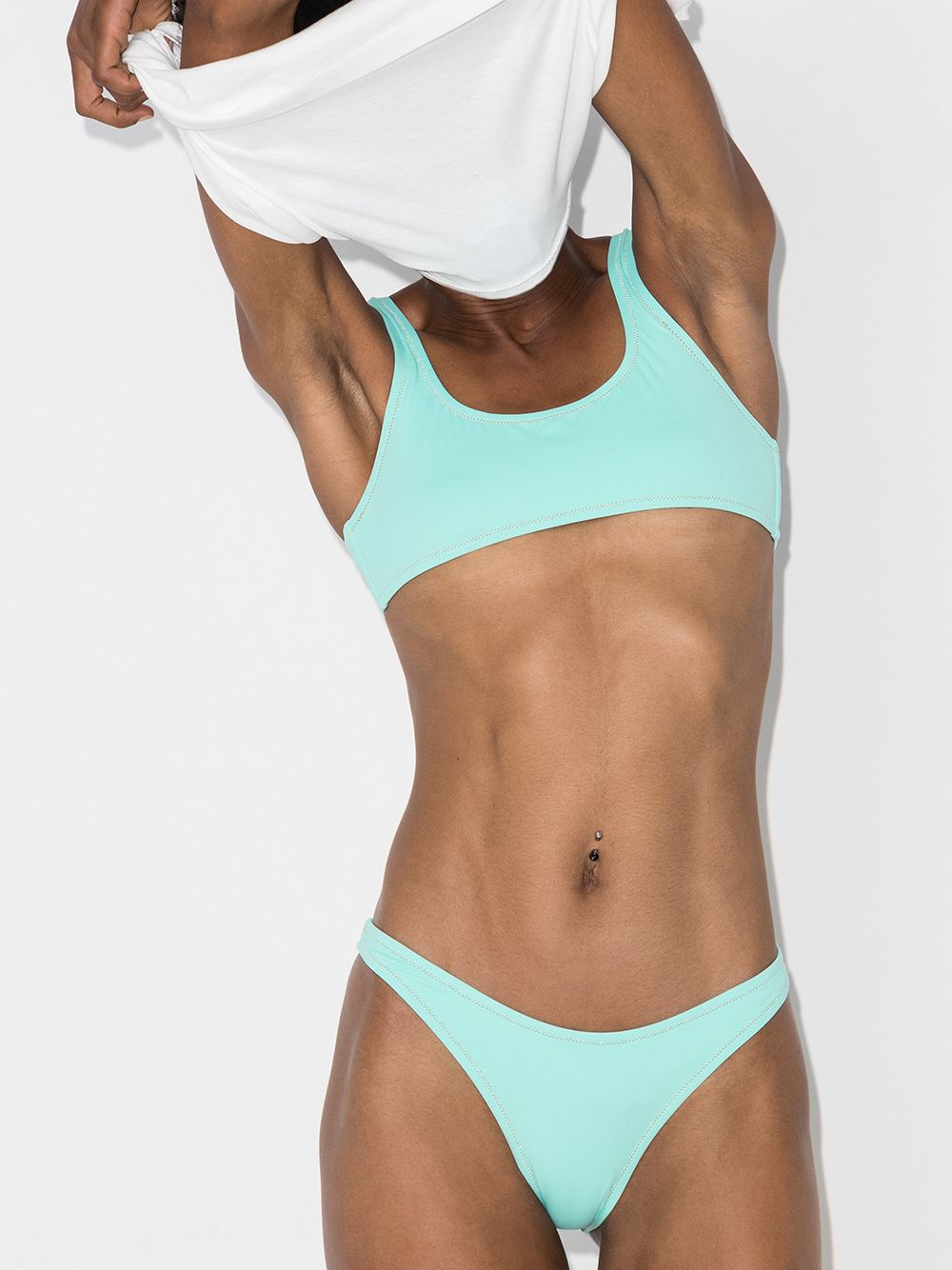 Opt for soft and high-quality fabrics when buying timeless silhouettes, like this Reina Olga Rocky Bikini set. That way, you'll have comfortable staple pieces that you can wear for years to come.
6. All Tied Up
Cheeky and sexy, tie details will instantly upgrade your summer look. Elaborate tied-up looks might have been the trend a few years back. But this year, it's all about minimalism. Just a few subtle tie details will do wonders. Side ties are a safe and classic option. But you can also try a flattering, belted tie to accentuate your waist.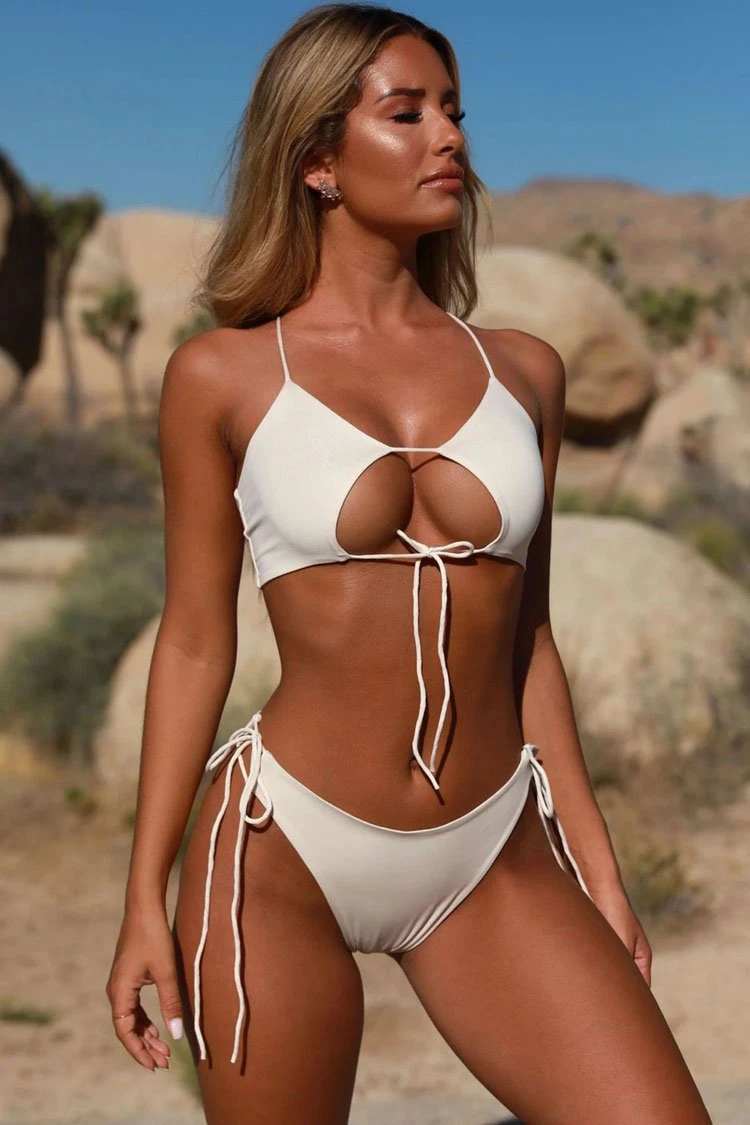 Take this Ombreprom strappy bikini set for example. The subtle yet sexy side and front ties are all you need to have a hot girl summer moment.
7. Multipurpose Pieces
As sustainable fashion becomes more mainstream, consumers are becoming more aware of their spending. From there, comes one of this year's hottest swimsuit trends, the multipurpose pieces.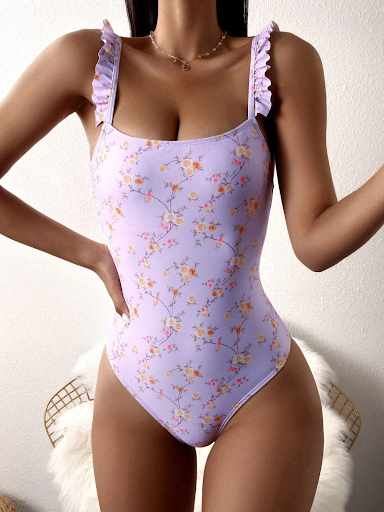 For summer 2021, opt for swimsuits that can be worn for more use, whether as undergarments or layering pieces. For example, this Shein floral lilac swimsuit will look great with a pair of jean shorts. While bikini tops are the safest option here, more brands are also coming up with multipurpose one-pieces and more.
8. V-Front Bottoms
The motto of this summer is "less is more". Opt for minimalist silhouettes to make a huge impact. The V-front or triangle silhouette is a tried and true trend that's coming back this season.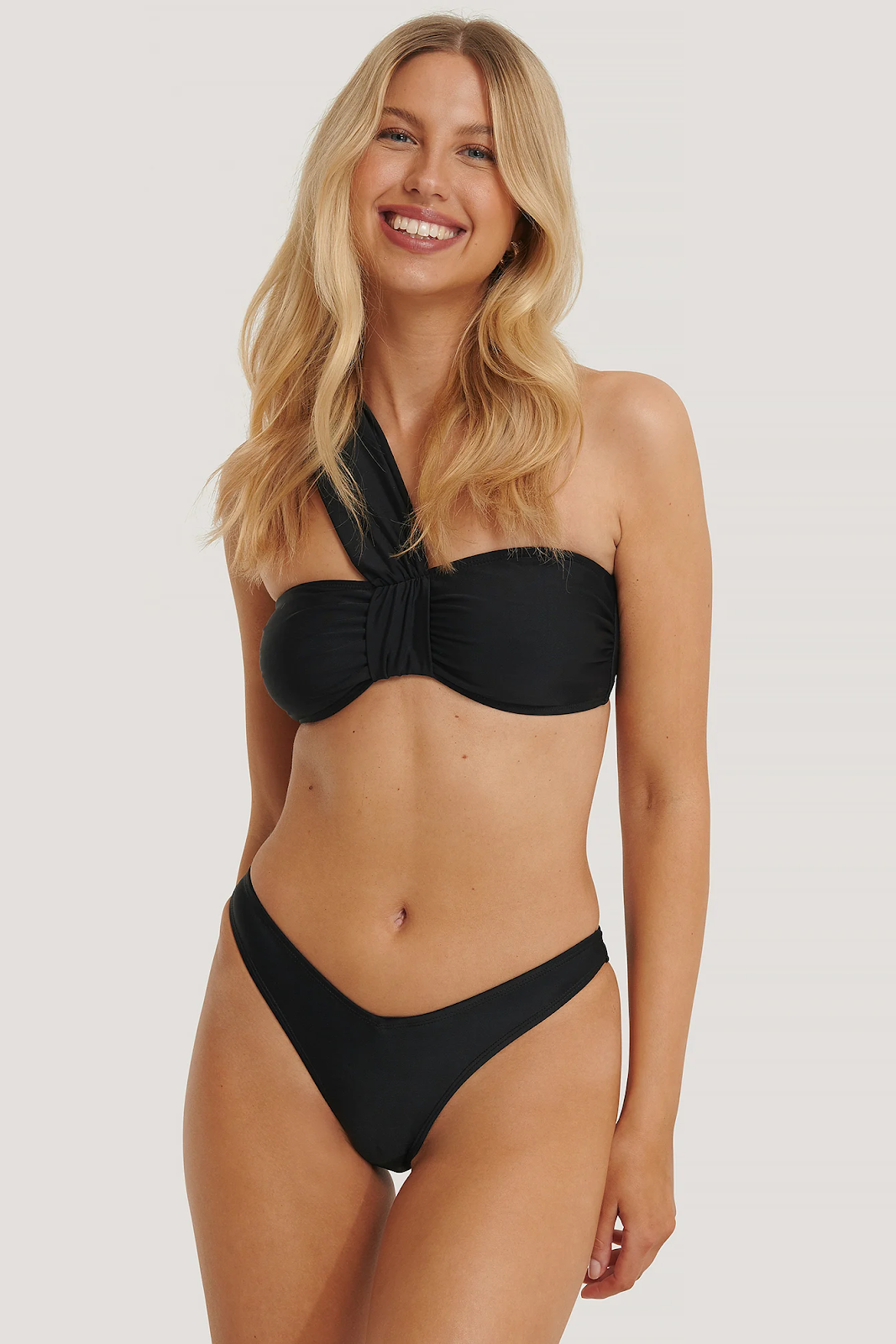 While it may look simple, a perfectly designed V-front bikini is anything but boring. It will accentuate your hips and waist without being in your face. Take this NA-KD bikini set for example. The V-front bottom paired with the asymmetrical top looks divine and glamorous.
9. Poppin' Neons
Channel your inner 80's chick with poppin' neon swimsuits. Bright and fun, a cute neon swimsuit will turn all eyes on you in summer 2021.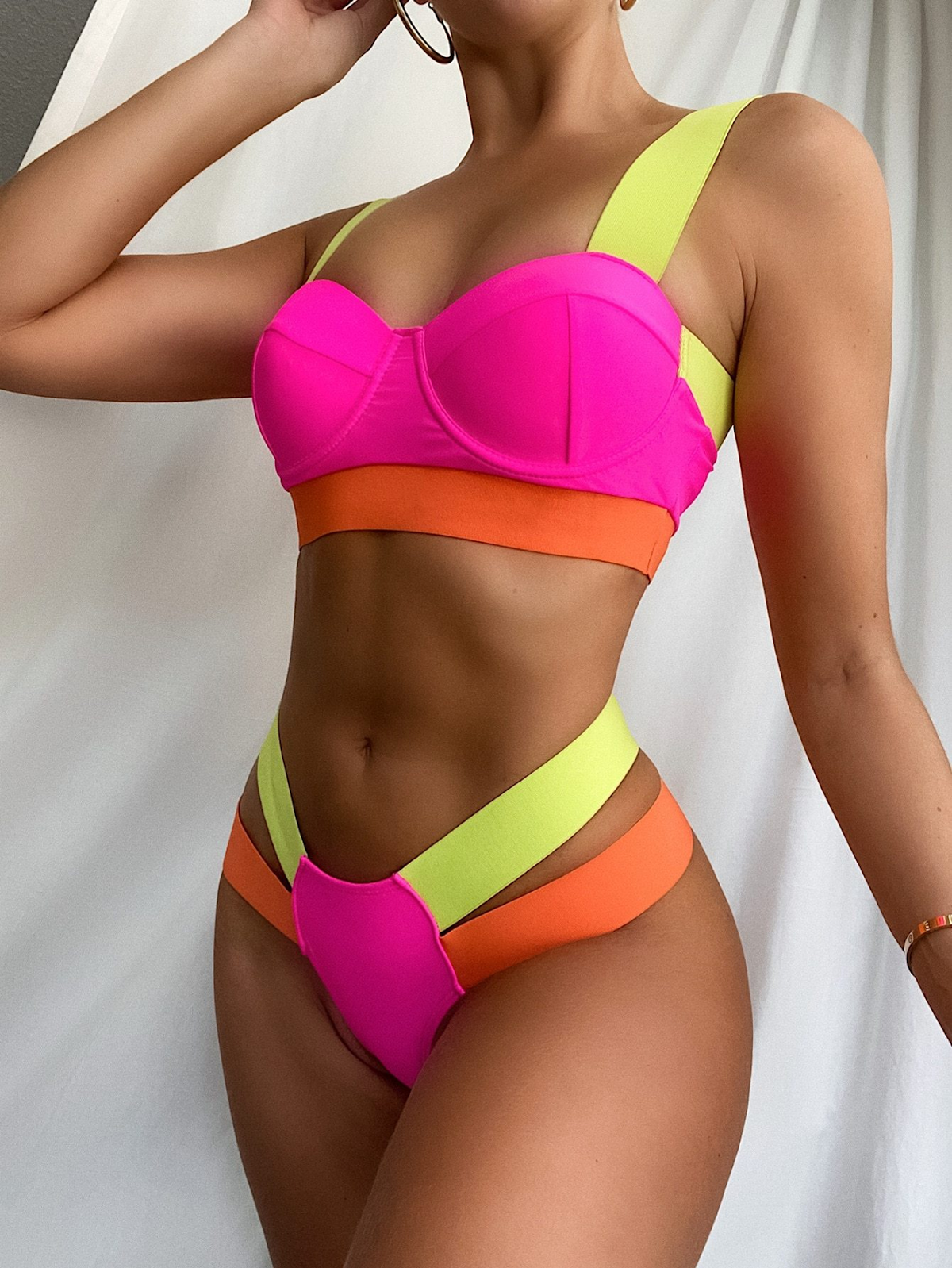 This season, opt for swimsuits that combine two or more neon colors for a more fun look. But if you're more of an understated gal, single-colored neon swimsuits work just fine. Of course, don't forget to combine this awesome color option with some hot silhouette trends as well. Like this Dudesky Ellolace Patchwork Bikini, for example, it has a gorgeous neon color combination paired with a subtle yet sexy V-front bottom.
10. Retro Prints
Nostalgia is huge this season. Styles from the '80s and '90s are particularly popular in 2021. So, why not incorporate elements from that era into your bathing suits? Bright, retro-inspired prints are the way to go this summer.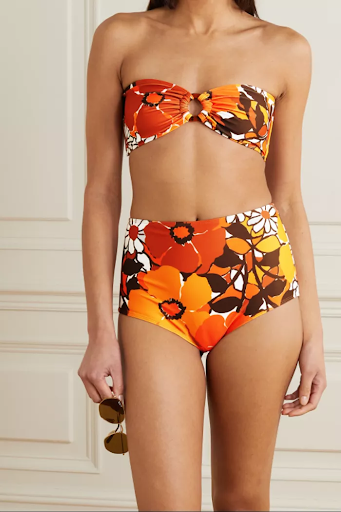 Florals and paisleys are a classic; they're flattering for everyone. For example, this Faithfull the Brand's bikini set. The huge, orange flowers will make it appear as if you stepped out of the '90s. You can also try abstract swirl patterns or even psychedelic-inspired motifs for a fun and unique look.
Closing Thoughts
So, what do you think? Which 2021 swimsuit trend is your favorite?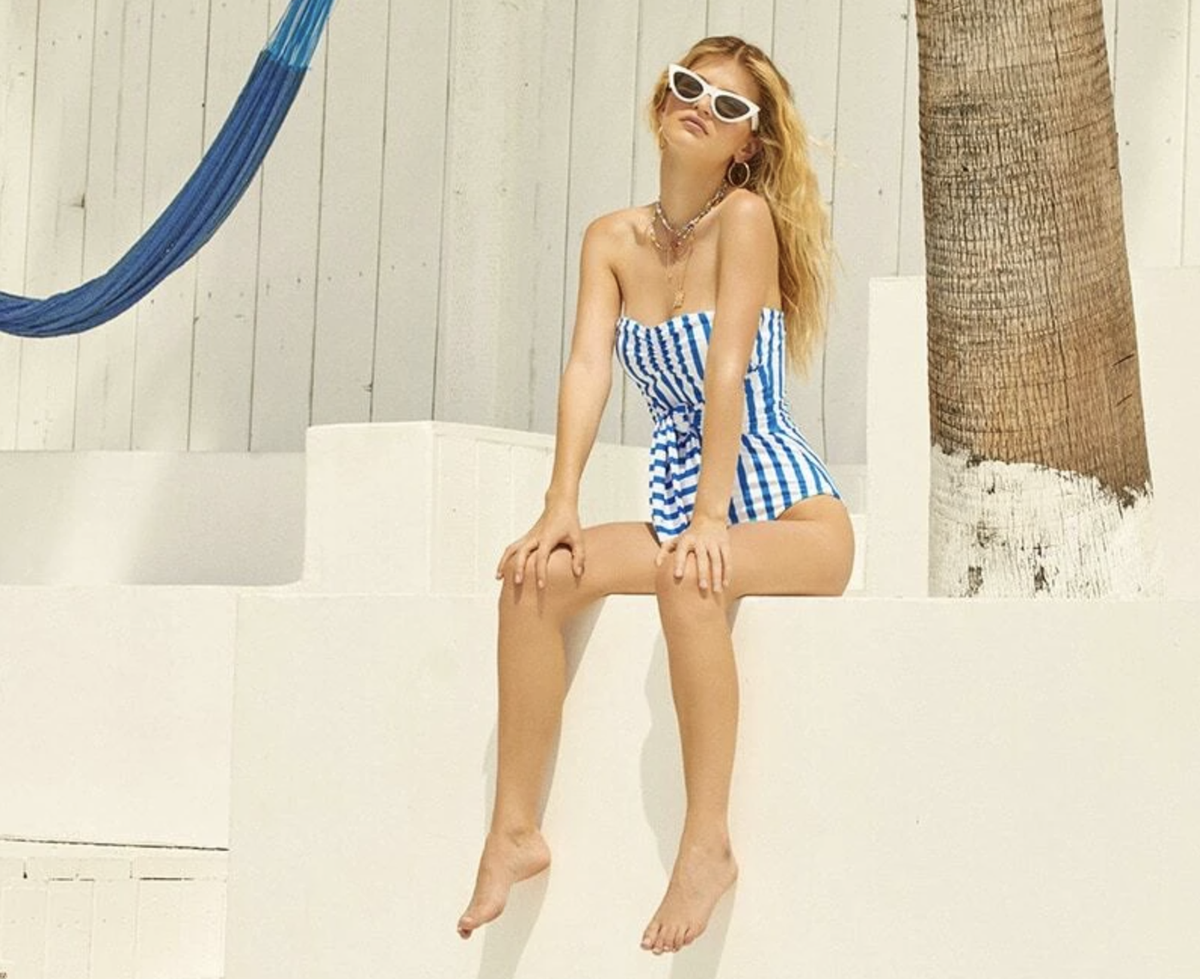 This summer's swimsuit trend is quite diverse. With a great mixture of comfort and style, there's something for everyone. So, don't hesitate to snag some cute fits for this summer. After all, there's no such thing as too many swimsuits.